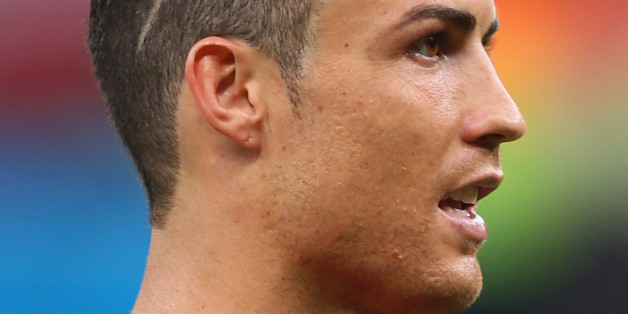 Portuguese soccer star Cristiano Ronaldo arrived at the World Cup as soccer's well-coifed villain, but rumors are flying that behind his artfully sculpted veneer lies a rather tender heart.
Allegedly.
A zig-zag pattern shaved on the side of the star striker's head has many speculating the hairdo is a tribute to young boy whose brain surgery Ronaldo paid for himself.
Even for those who revile Ronaldo, this possible twist is too good of a story to resist. Ronaldo hasn't confirmed anything about his hairdo, but in an attempt to separate fact from fiction, Deadspin casts a skeptical eye on the story by pointing out there's just one social media post from that's been re-shared (with new facts appearing in different iterations) to serve as "proof":
Ronaldo cut his hair to match the scar of a young fan who had surgery to remove a brain tumor last week. #respect pic.twitter.com/weaTKPNG5n

— 2014 World Cup (@2014WorIdCup) June 23, 2014
Even if it turns out the questionable hairdo is not a touching tribute to a sick boy but rather a piece of fiction spun up by a Ronaldo fan or social media prankster, credit where it's due:
Ronaldo did indeed pay the medical costs for Erik Ortiz Cruz, a 10-month-old Spanish boy (Ronaldo plays professionally for Spain's Real Madrid) suffering from an epilepsy-causing congenital abnormality in the brain called cortical dysplasia.
In March Ronaldo "quietly wrote a personal check for $83,000" to cover Cruz' medical costs after he was asked to donate items for a charity auction benefitting the child, the LA Times reports. Ronaldo reportedly even offered to pay for follow-up treatments which cost roughly $8,000 a visit.
Frustrating as it may be for Ronaldo's detractors, his reputation as a preening footballer -- one so vain he opened a museum dedicated to his own achievements -- can't negate his quiet acts of charity.
After all, it makes sense that the sport's best villain is also intriguingly complex.
BEFORE YOU GO
PHOTO GALLERY
PHOTOS: U.S. vs. Portugal