When you hear the words "action figure," odds are you think of tiny Batman toys or G.I. Joe in his brawny, bicep-filled glory. But you'd be hard pressed to find a more relatable action figure with substantive qualities beyond muscles.
One California mom decided enough was enough. After noticing the slew of new toys designed to empower young girls and encourage personal growth, Laura Hale of Menlo Park decided to create something similar for boys. Thus, Generation Grit was born.
Similar to the American Girl doll brand, Generation Grit will feature historical characters who inspire boys to cultivate qualities like "empathy, kindness, resourcefulness, curiosity, and grit." If produced, each "adventure figure" will come with a line of books and accessories. The first character is Mac Mason, a 14-year-old boy living in 1943, whose interests include baseball, camping, and ciphers.
A graduate of Harvard Business School, Hale launched a Kickstarter campaign to fund the project and has already raised over a third of her $75,000 goal. As the description says, Generation Grit seeks to teach young boys that "there's more than one way to be strong." If the campaign reaches its goal by July 2nd, the action figures will be manufactured and set to hit store shelves by the end of the year. However, if Hale does not raise the full $75,000 in time, she will not collect any funds and will not be able to produce the Mac Mason toys. "We can only make it happen with you!" reads the last statement on the Kickstarter page.
Just as girls deserve more options than Barbie and Monster High dolls, boys deserve more than Ken and G.I. Joe.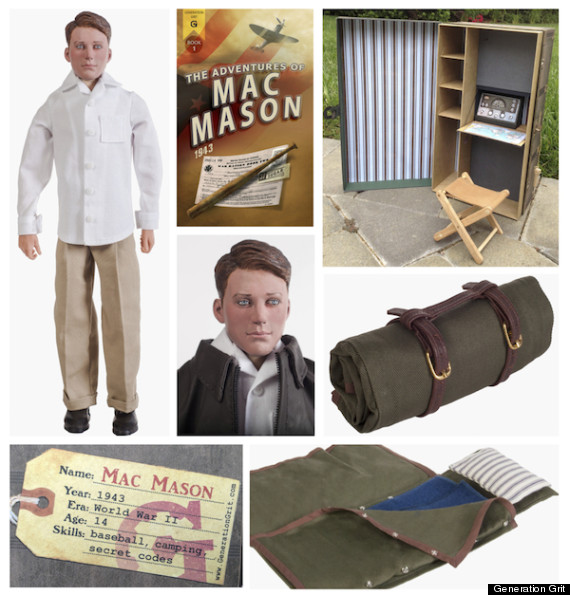 BEFORE YOU GO
PHOTO GALLERY
50 Children's Books with a Positive Message, Chosen By Julie Handler