A design fair of epic proportions descended upon Switzerland last week, bringing with it a barrage of equally beautiful and bizarre objets d'art. Design Basel 2014, named for its location in Basel, Switzerland, introduced eager aficionados to the year's hottest creations in furniture, architecture, decor and fashion. And it got weird.
As you might expect, given that this is a contemporary art world event, the bizarre sometimes outweighs the beautiful at Design Basel. The real and artificial boundaries between aesthetic and functionality fall by the wayside and sculptural designs of little use at all have fair goers tilting their heads and raising their eyebrows, wondering which masterpieces they should actually buy and which ones they should ogle as a moment in art history.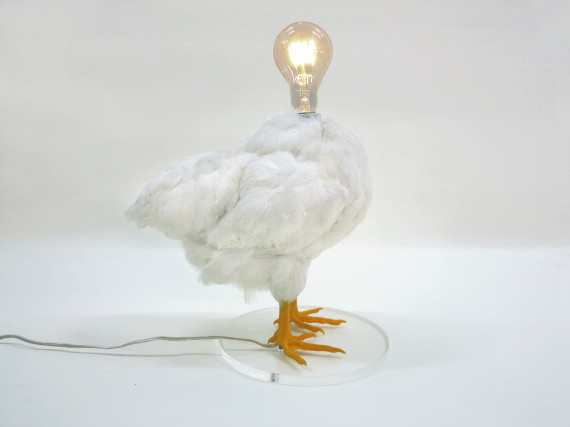 Case in point: The Chicken Lamp. That is the official title of Chilean-born artist Sebastian Errazuriz's Design Basel 2014 artifact. Made from a taxidermy chicken, the avant-garde light fixture is essentially exactly what it sounds like -- the body of a chicken paired with a lightbulb, equalling a Chicken Lamp.
It's based on a similar project, Duck Lamp, in which Errazuriz replaced the head of a duck (rescued from the trashcan of an old taxidermy museum with a broken neck) with the head of a desk lamp. That particular artwork became "an instant classic," according to the artist.
"I was actually afraid of the public's reaction when I first presented the Duck Lamp," Errazuriz writes on his website. "Taxidermy wasn't a trend yet and I didn't want to be considered a freak, but felt compelled to make it. Somehow it made sense to me and to my surprise when I presented it in a gallery, it seemed to make some weird, unconscious, fucked up sense to other people too. It apparently felt familiar, beautiful, terrible, and funny at the same time."
As a press release for the headless chicken notes, it's meant to explore "the border between the sculptural and functional qualities of both art and design." There's is something simultaneously terrible and beautiful about the work, compelling the viewer to wonder about the value of iconoclastic design. It's up-cycled, one could argue, and while taxidermy of any other form simply glares at you with its deadened eyes, this piece lights your office and spares you the uncomfortable staring contest.
But it's hard not to imagine the bird had a really great idea, before its heart stopped and it was wired for an electrical current. Or that it belongs in Frankenstein's laboratory, as mood lighting.
It's worth pointing out that most of Design Basel's offerings are not intended to be commercial. "None of these pieces could ever have been shown in a booth," curator Dennis Freedman explained to The New York Times. However, the fair at large is still a commercial endeavor at heart. Like the art fairs before and after it, pieces are meant to be sold, for money, to rich and famous admirers if possible.
We can only hope one of said admirers is basking under the light of a Chicken Lamp as we type.
BEFORE YOU GO
PHOTO GALLERY
Classical GIFs