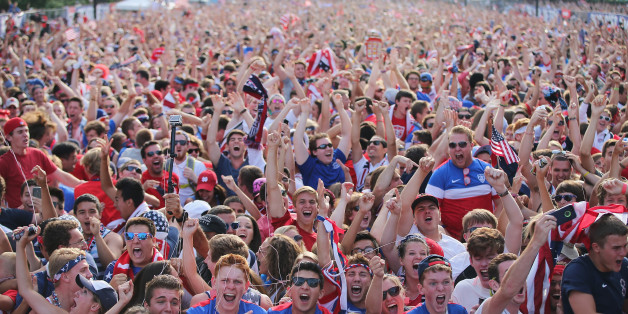 All eyes may not have been on the thrilling U.S. vs. Portugal World Cup match Sunday -- but a record number of them were watching.
The Group G match became the most-viewed soccer game in U.S. history, drawing a record-breaking 18.2 million viewers on ESPN, according to Nielsen fast-nationals.
The 18.2 million viewers (a 9.6 U.S. Nielsen rating) eclipsed the record previously set in 1999 by the Women's World Cup final between the USA and China where 17.9 million viewers tuned in to watch on ABC.
The match was also a huge win for Spanish-language channel Univision, which has been simulcasting World Cup matches with ESPN:
USA-Portugal had the biggest US TV audience ever for a soccer game, averaging 24.7 million viewers (18.2M ESPN, 6.5M Univision).

— Grant Wahl (@GrantWahl) June 23, 2014
Compared to other major ESPN broadcasts, Sunday's game became "easily the most-watched non-[American] football sporting event in cable TV history," according to Sports Media Watch. The top five markets with the highest game viewership were Washington, DC, Columbus, Ohio, New York, Boston and the Hartford and New Haven, Forbes reports.
Americans have been falling in love with soccer this World Cup, notes The New Yorker. In Chicago, home of the U.S. Soccer Federation, an estimated 20,000 fans packed into Grant Park to watch Sunday's game with many turned away when the park reached capacity before kickoff.
With no teams yet eliminated in Group G, known as this World Cup's "Group of Death," the stakes remain high for the remaining matches when all four teams (Portugal vs. Ghana and USA vs. Germany) face off on Thursday.
BEFORE YOU GO
PHOTO GALLERY
PHOTOS: U.S. vs. Portugal