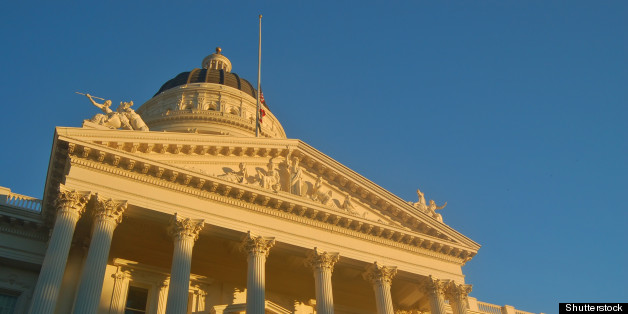 California's state Senate voted Monday in favor of amending the U.S. Constitution to curb the influence of money in politics.
Assembly Joint Resolution 1, first introduced by state Assemblyman Mike Gatto (D-Los Angeles) in late 2012, would call for a constitutional convention with the purpose of amending the Constitution to "limit corporate personhood for purposes of campaign finance and political speech" and "further declare that money does not constitute speech and may be legislatively limited."
The measure is aimed at overturning the Supreme Court's controversial Citizens United decision, which opened the door for the creation of super PACs, a new type of independent political committee that can raise and spend unlimited cash on campaigns. The state assembly voted in favor of the bill in January.
The resolution passed the state Senate in a 23-11 vote, making California the second state to call for constitutional convention geared at overturning the landmark court ruling. (Vermont's legislature passed a similar measure earlier this year.)
"Voters are clearly fed up, and polling shows this, with the notion that money is speech and big money can drown out the speech of average Americans," state Sen. Mark DeSaulnier (D-Concord) told his colleagues of the measure, according to the Los Angeles Times.
A constitutional convention requires two-thirds of state legislatures to get behind the proposal in question, making the resolution a long-shot bid. However, Gatto hopes the measure will send a message to Congress on the issue.
"I doubt our Founding Fathers had the free-speech rights of multi-national and foreign corporations in mind when they drafted the First Amendment," he said in a Monday statement. "But the Founding Fathers did anticipate that every once in a while, the states would need to prod Congress to act to amend the Constitution. That's what we are doing."
BEFORE YOU GO
PHOTO GALLERY
Supreme Court Justices