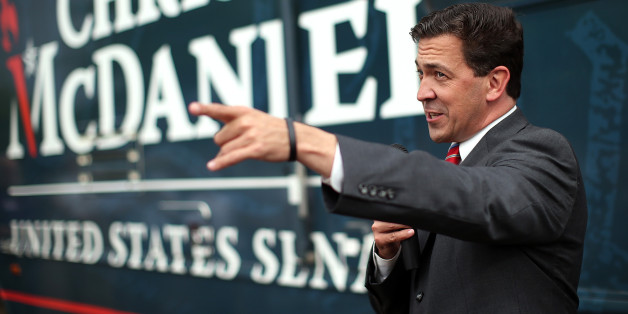 Voters in Mississippi and six other states hold primaries elections today, but most attention is focused the Cochran-McDaniel runoff in Mississippi. President Obama's foreign policy ratings fall, as does his overall job approval rating on Gallup's tracking. And both parties find common ground in the blandness of their memoir titles. This is HuffPollster for Tuesday, June 24, 2014
MISSISSIPPI GOP RUNOFF PREVIEW - Harry Enten: "[State Sen. Chris] McDaniel seems to have picked up momentum after his first-round victory. [McDaniel] has led [incumbent Sen. Thad Cochran] in five of the seven runoff polls and trailed by only one point in the two surveys in which he was down. The Real Clear Politics average has McDaniel ahead 49 percent to Cochran's 43 percent. The polls were accurate in the first round, but historically pollsters have had trouble in Mississippi's Republican primaries and may be downplaying Cochran's support in the second. Cochran has been trying to attract voters who didn't take part in the June 3 primary in an effort to boost his chances Tuesday. In Mississippi, any voter can cast a ballot in a runoff, so long as she didn't vote in the Democratic primary earlier this month." [538]
A Chism effect? - Pollster's chart on the Mississippi runoff, which estimates the current standings based on the trends indicated by all of the publicly released polls, gives a McDaniel an even larger margin (52.5 to 44.0 percent). By including all surveys, the Pollster chart gives greater effective weight than RealClearPolitics to the two most recent surveys fielded by the Democratic firm Chism Strategies, which conducts voter ID calling and voter targeting for the Democratic candidate in the Mississippi Senate race, Travis Childers. Chism's last two surveys give McDaniel leads of 6 and 8 percentage points. The other polls on the runoff contest come from Republican firms with ties to either the McDaniel campaign or its Super PAC allies. A week-old NSON poll (sponsored by the Tea Party Express) gave Cochran a one-point edge, while a Polling Company/WomanTrend poll fielded two weeks ago (and sponsored by a pro-McDaniel Super PAC) had McDaniel ahead by 12 points. [Pollster chart, Roll Call on Childers' campaign]
And a warning on GOP primary polls in the South - Nate Cohn: "Republican primary polls in the South have not always been accurate. They systematically underestimated Mr. Santorum's performance in 2012. Today, they face the added challenge of a possible increase in black turnout. The recent upset of Eric Cantor, who had been the House majority leader, is a relevant cautionary tale."[NYTimes]
Less spending on television in MS, more on other contact - Derek Willis: "Compared with other states with high-profile Senate races, however, Mississippi's Senate contest has had a lower percentage spent on broadcast and more spent on mail, online and telephone efforts. Those are more direct methods of voter contact, which, depending on the message and its source, can be more effective in influencing turnout. More than 10 percent of the outside spending has come in the form of direct mail. In the past week alone, two groups — the Tea Party Patriots Citizens Fund and Independent Women's Voice — have paid for $321,000 in direct mail pieces opposing Thad Cochran, the Republican incumbent...The differences in the types of spending can be partly explained by the sheer number of groups operating in Mississippi: At least 33 of them have spent money in the Senate race." [NYTimes]
POLLS SHOW LITTLE SUPPORT FOR OBAMA'S HANDLING OF IRAQ - HuffPollster: "President Barack Obama's already flagging ratings on foreign policy may take another hit from the violence in Iraq, according to a trio of surveys released this week. A Washington Post/ABC News poll released Tuesday gives Obama a -10 net approval rating on his handling of the situation in Iraq, with 42 percent of Americans approving and 52 percent disapproving. A CBS/New York Times poll gives him a net -15, with 37 percent approving and 52 percent disapproving, while a HuffPost/YouGov survey puts him at -12. As in the response to past conflicts, views of Obama's performance may have more to do with how Americans view him than with what they think of his specific actions. In the CBS/Times poll, Democrats were five times more likely than Republicans to back his handling of the crisis, even though an identical 54 percent of Republicans and Democrats supported Obama's plan to send military advisers into Iraq." [HuffPost]
Why foreign policy now resembles Obamacare - Daniel W. Drezner: "[T]he striking pattern is that when Americans are asked about concrete policies, majorities tend to support the administration's position. When asked about overarching policy towards Iraq, or towards the rest of the world more generally, majorities now tend to dislike what the administration is doing. In other words, foreign policy is the new Obamacare when it comes to polling. So what's going on? It's not rocket science — it's the difference between policy outputs and policy outcomes. A policy output is, say, the decision to send military advisers into Iraq, or the decision to rule out the use of combat troops there. A policy outcome is what actually happens on the ground — in the case of Iraq, a worsening sectarian war….When Americans are asked about specific foreign policies, they tend to support the administration, because they're assessing concrete policy outputs. When asked a more general question about foreign policy, or even foreign policy towards Iraq, they're likely assessing the policy outcomes." [WashPost]
Obama's overall rating also slips on Gallup tracker - Jeffrey M. Jones: "The situation in Iraq seems to be taking a toll on President Barack Obama's public standing. His weekly job approval rating is down a total of three percentage points over the last two weeks, to 41%. While this drop is not large in absolute terms, it is notable because it follows nearly three months in which his job approval averaged 44% with little week-to-week variation….The long stretch of stability from mid-March to early June occurred during a period that was hardly uneventful for the president, including controversies over medical care for U.S. military veterans at Veterans Affairs hospitals and a prisoner exchange of five Taliban detainees for U.S. Army Sgt. Bowe Bergdahl. But Iraq may be the issue weighing most heavily on Obama's public support given the timing of the drop in approval." [Gallup]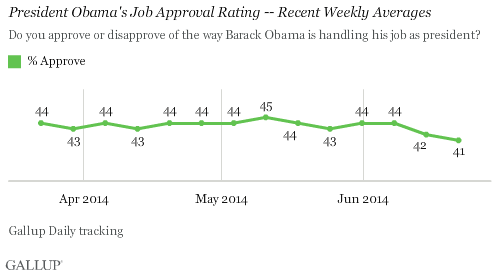 HUFFPOLLSTER VIA EMAIL! - You can receive this daily update every weekday via email! Just click here, enter your email address, and and click "sign up." That's all there is to it (and you can unsubscribe anytime).
TUESDAY'S 'OUTLIERS' - Links to the best of news at the intersection of polling, politics and political data:
-A majority of Californians still approve of President Obama. [Field]
-Only 21 percent of Americans think policymakers should take Dick Cheney's advice on Iraq. [YouGov]
-Cuban-Americans are increasingly shifting toward the Democrats. [Pew Research]
-Allison Kopicki finds the Tea Party retains its muscle, despite thin support. [NYTimes]
-Stuart Rothenberg issues his semi-annual warning against 'anti-incumbent' election hysteria. [Roll Call]
-Charlie Cook says that President Obama's low approval ratings make the midterms an "unfair fight" for the Democrats. [National Journal]
-Choire Sicha takes issue with a Brookings Institution study that suggests worries about student debt are exaggerated. [The Awl]
-Google Trends will tell you little about who will win an election. [WashPost]
-Customers say they are inundated with customer satisfaction surveys. [Boston Globe]
-Democrats and Republicans have some surprising preferences in memoir titles. [YouGov]