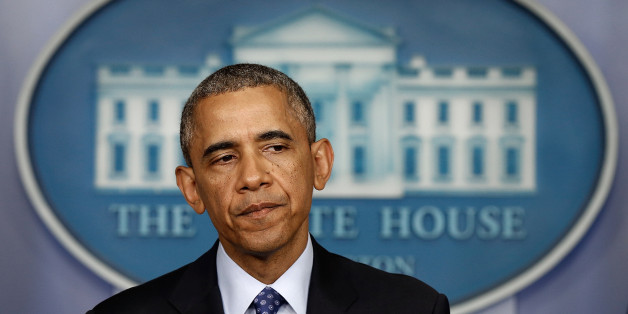 President Barack Obama's already flagging ratings on foreign policy may take another hit from the violence in Iraq, according to a trio of surveys released this week.
A Washington Post/ABC News poll released Tuesday gives Obama a -10 net approval rating on his handling of the situation in Iraq, with 42 percent of Americans approving and 52 percent disapproving. A CBS/New York Times poll gives him a net -15, with 37 percent approving and 52 percent disapproving, while a HuffPost/YouGov survey puts him at -12.
As in the response to past conflicts, views of Obama's performance may have more to do with how Americans view him than with what they think of his specific actions. In the CBS/Times poll, Democrats were five times more likely than Republicans to back his handling of the crisis, even though an identical 54 percent of Republicans and Democrats supported Obama's plan to send military advisers into Iraq.
Even before the latest outbreak of violence in Iraq, Obama faced rising disapproval for his handling of foreign policy, likely due in part to controversy over the release of five Taliban prisoners in exchange for U.S. Army Sergeant Bowe Bergdahl. An NBC/Wall Street Journal poll released earlier in June found Obama's rating on the issue dropping 5 points in two months. Gallup also found the president's overall approval rating, which had been stable since April, dipping just after Iraq began making headlines.
The Post/ABC poll surveyed 1,009 adults between June 18 and 22, while CBS/The New York Times surveyed 1,009 adults between June 20 and 22. Both used live interviewers to reach both landlines and cell phones.
BEFORE YOU GO
PHOTO GALLERY
Clashes in Iraq