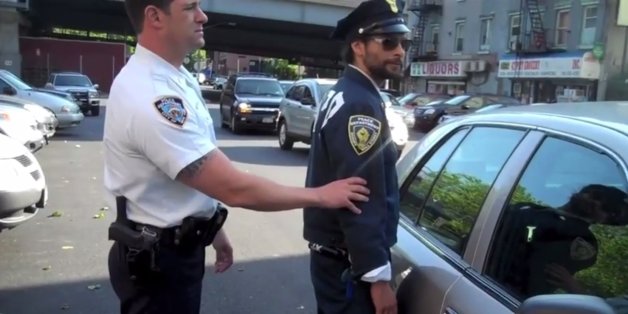 NEW YORK -- Two Occupy Wall Street protesters arrested in May 2012 over a piece of street theater meant to satirize the New York Police Department have reached a $22,000 settlement with New York City, they announced on Tuesday.
Bicycling activists Keegan Stephan and Barbara Ross were arrested as they were protesting the NYPD's practice of arresting Occupy Wall Street demonstrators who filmed the police at work. Dressed as comic exaggerations of cops, they were melodramatically ordering fellow bicyclists with the cycling collective Time's Up! to stop filming them.
"This was during the height of the suppression of Occupy Wall Street. The police were cracking down, especially on filming the police, so this was a theatrical way to draw attention to the fact that it is totally legal to film the police," said Stephan.
The joke went downhill when actual police officers showed up. Initially, Stephan and Ross were told they were being arrested for impersonating police officers. The charges against them were later downgraded to reckless endangerment and eventually dropped.
Their arrests were caught on tape:
"It was blue Dickies and a blue Dickies jacket, and I pasted the letters 'NYPD' on the back. ... I don't think anyone seeing me in a double-long cycle, covered in cardboard, was going to think I was a police officer," recalled Stephan. Just two months earlier, Stephan noted, Lt. Daniel J. Albano of the police department's legal bureau had actually complimented Ross on wearing the same costume.
Stephan and Ross sued the city for false arrest. They received the monetary offer in March. The settlement continues a pattern under New York Mayor Bill de Blasio (D) of making peace with former Occupiers over the large-scale arrests during the movement's heyday.
New York City Law Department spokesman Nick Paolucci said in a statement that "settling this case was in the best interest of all parties."
The counterfeit cops were represented by the law firm Stecklow Cohen & Thompson, which had previously hired Stephan to publicize a $583,000 settlement in a separate lawsuit against the NYPD.
"It really is echoing these last few settlements for Occupy Wall Street," said Stephan of his own settlement. "The police need to stop falsely arresting people who are exercising their First Amendment rights. If we have skilled lawyers on our side, they're going to have to keep paying, and the people of New York are going to have to demand that they stop doing this."
Stephan, an organizer with the street safety group Right of Way, noted the irony of being charged with "reckless endangerment" for riding his bike when the city rarely brings such charges against motorists who kill pedestrians.
He said that after legal fees, his share of the settlement works out to about $7,500. His plans for the money: "I'm gonna buy a new bicycle and keep giving 'em hell."
BEFORE YOU GO
PHOTO GALLERY
Occupy Wall Street Posters