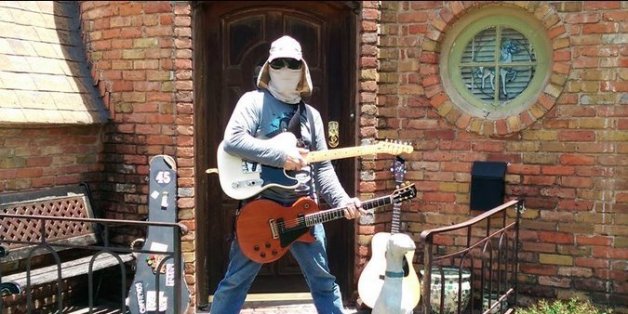 The Second Amendment guarantees the right to bear arms, but what about axes -- as in guitars?
A group of Dallas residents will find out July 4 when they hold the first ever Open Carry Guitar Rally.
As the name implies, guitars owner will gather together in public to do the most patriotic act of all: rocking out.
The idea is meant to satirize the gun owners who believe that carrying large firearms into Chipotle restaurants is a good way to raise awareness about the Second Amendment.
The idea is the brainchild of Barry Kooda, a Vietnam war veteran and musician who once opened for the Sex Pistols.
Kooda, 61, owns guns himself, but was alarmed by the recent Open Carry rallies.
"The idea of desensitizing people to the sight of someone walking in to a fast food restaurant with an automatic rifle is not good," he told The Huffington Post by email. "One should feel alarm. It's the proper response in such situations."
Kooda figured that if some people insisted on carrying assault weapons in public, he had the right to lug around his prized 1955 Gibson Les Paul Special.
"I figured that guitars would be a better choice to carry in public and somewhat less dangerous," Kooda told the Dallas Observer. "Why not poke a little fun and make a little sense at the same time?"
Originally, the event was just a Facebook joke that has since become a real event.
"I grabbed some of my guitars and had my wife take a phone photo and went on to Facebook and made up a bogus event without a time, date or location," he told HuffPost. "It quickly took on a life of its own and I've been playing catchup ever since."
The official event will take place at the Continental Street Bridge in Dallas. Kooda expects between 10 and 700 guitar players will show up to shred.
The open carrying isn't just limited to guitars -- basses, ukuleles, tubas and even cowbells are welcome too.
"Bring spoons, castanets, bongos or whatever musical instrument you'd like or just come hang out," he said. "Just as long as everyone doesn't bring potato salad."
Although Kooda says some people are trying to have what he calls "a somewhat structured live music presentation" at a nearby BBQ restaurant, he predicts the rally will most likely be a "chaotic mega-noodle-fest."
Since the rally is openly satirizing the Open Carry gun crowd, Kooda concedes some people might decide to bring guns instead of guitars -- or both.
"[They'll probably be there], but like the Westboro Baptist Church, we can't stop 'em if they decide to show up," he said. "We're committed to being family friendly and non confrontational but there are varying, overlapping schools of thought. I'm sure there are those who want to be able to carry their guitars as well as be prepared for the impending, inevitable zombie apocalypse."
Kooda is preparing for that possibility by having guitar rally participants also open carry duck calls and honking them around people who insist on flashing their AK-47s instead of Stratocasters.
"It'll be pretty funny," he said.
It's possible this could become an annual event, but Kooda promises Chipotle customers and employees that they don't have to worry about him invading their space armed with Telecasters.
"I live in Oak Cliff, Texas, where we have real Mexican food," he said.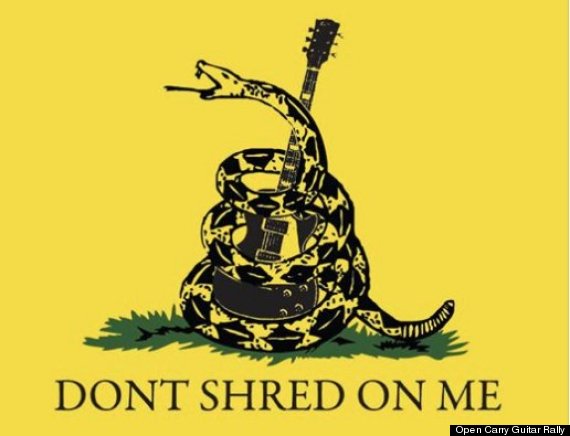 Like Us On Facebook |

Follow Us On Twitter |

Contact The Author
BEFORE YOU GO
PHOTO GALLERY
Weird News: Strange, But True