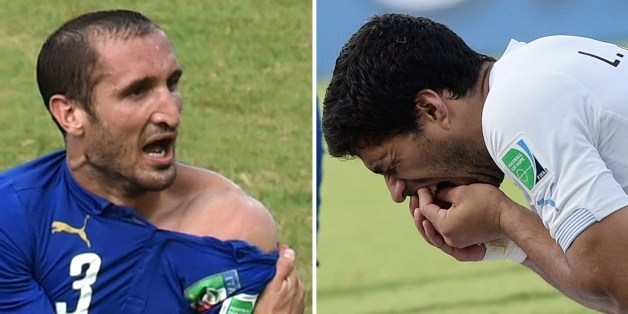 Gamblers really are willing to bet on anything...
Strange prop bets aren't uncommon in the world of sports gambling but we hadn't heard much about them this World Cup season until Chewy Luis Suarez changed that with his apparent toothy attack on Italy's Giorgio Chiellini during a group-stage match on Tuesday.
More than 150 people across Europe put money down that Luis Suarez would strike again, reported The Associated Press on Wednesday. Oddly enough, most of the bets came from Scandinavian countries including the biggest winner who's winnings amounted to 2,000 euros (around $2,700 USD).
Mats Johansson, a Swede who bet on a bite occurring went to Twitter to celebrate stating "Hahahaha! Thanks again to you Suarez for biting a player and thanks for 1750 (Swedish Krona) profit."
Hahahaha!!! TACK Suarez för att du återigen bet en spelare o tack för 1750 i vinst 😃😂😉 #vm2014 #bett #bita #Suarez pic.twitter.com/sMmkM9PZmh

— Mats Johansson (@mats_1980) June 24, 2014
But was it really that surprising that Suarez bit again?
BI's "Luis Suarez's Biting History" shows record of 3 different occurrences of him biting opponents. The first was in 2010 when he bit Eindhoven's Otman Bakkal on the shoulder, the second in 2013 for biting Chelsea's Branislov Ivanovic on the arm and yesterday's alleged bite to Italy's Giorgio Chiellini.
Did you think Suarez would bite again?
Luis Suarez is obviously a vampire. pic.twitter.com/DB8YD0Wh2F

— Epic Football (@TheEpicFootball) June 24, 2014
BEFORE YOU GO
PHOTO GALLERY
The Best Photos Of The 2014 World Cup