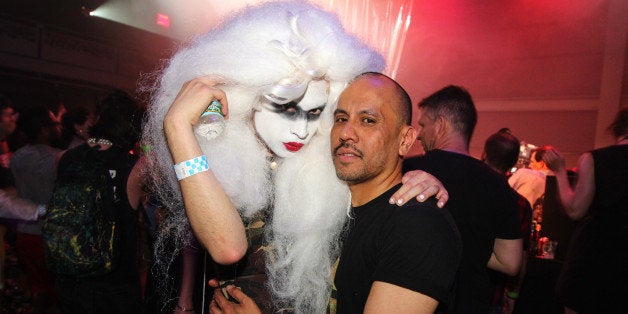 One of Brooklyn's most iconic Pride Week parties is returning to the Brooklyn Academy of Music again this year with an incredible line-up that speaks to the diversity of the New York City queer community.
Called Everybooty, this party is curated through an intersectional effort by a number of other large-scale Brooklyn parties and their promoters: SPANK, HEY QUEEN!, Earl Dax and Big Art Group. One of the most open and accepting Pride celebrations to take place during Pride Week, Everybooty is a radical-mashup of artists whose work is actively producing and shaping the future of our queer culture.
This party is inspired by the Pride festivities of San Francisco's Castro District that provide a platform for local artists, with this being the fourth annual installation of the New York event. A number of high profile names are on the bill, including Justian Vivan Bond, drag king Murrary Hill, Brooklyn drag artist Untitled Queen, indie-folk-pop artist Julia Weldon, comedian and activist Red Durkin, comedic performer Erin Markey and songwriter and videographer Shane Shane.
The Huffington Post chatted with Sarah Jenny and Sean Bumgarne, two curators for Everybooty, about the event this week, what the pair are trying to accomplish and what attendees can expect.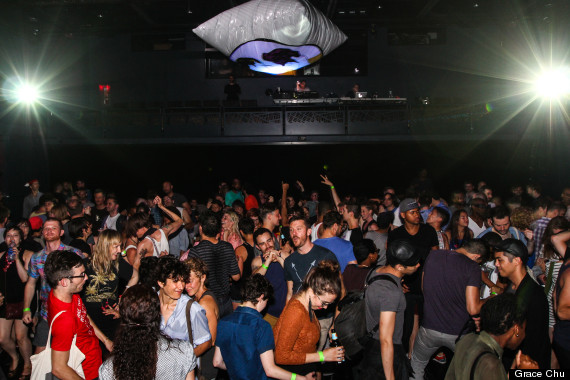 The Huffington Post: What makes Everybooty one of the most accepting and diverse parties one could attend during Pride week?
Sarah Jenny: This collaboration is a mindful one -- we've brought together a range of really talented curators invested in highlighting both emerging and established artists and aim to reflect the New York LGBTQ community back to our guests by bringing performers who span the spectrum of gender expression, sexuality, age, and racial identities. It's really important to us to create a respectful and spirited space that allows queers of all stripes to feel at home and proud of our big, beautiful community.

Sean Bumgarner: Everybooty was inspired by the idea of creating a huge exciting celebration that actually brings together the whole community into an idyllic mash-up that rarely exists. Because we are the only party that has such a crazy mix of party and performance promoters involved that create their own events (Spank, Hey Queen!, Earl Dax /Pussy Faggot, Big Art Group) we know we are bringing all kinds of party people and performers together that normally do not get a chance to play together.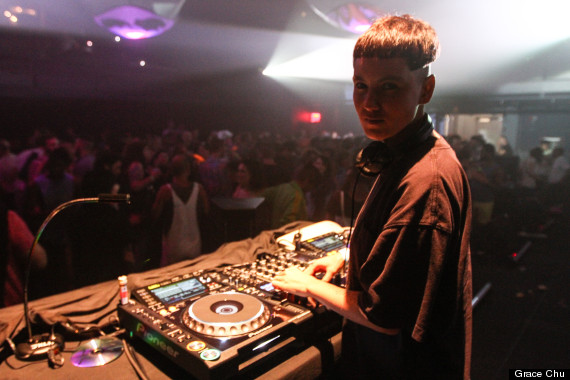 Why is Everybooty such an important part of Pride?
Jenny: We want to highlight alternatives to mainstream Pride -- and, in doing so, we wanted to showcase queer, gay, trans or gender non-conforming artists and performers who deserve space to showcase their talent. It was really an opportunity to create something both fun and of substance –- to remember our common histories of struggle, resistance and resilience. It's also nice to see it has inspired so many other like-minded events.

Bumgarner: Just four years ago there were very few pride events beyond the sanctioned events or more circuit focused larger all-guy dance events. Looking around this year we are thrilled that we have been part of and perhaps inspired a new round of excitement around celebrating and taking pride in the community and creativity of NYC. We continue to find new ways to celebrate all the artists, performers, DJs and musicians that make NYC's queer culture so vibrant.

How has Everybooty grown since 2011?
Jenny: Each year has been an amazing new adventure! We went from pretty DIY our first year, bringing in 2,000 guests to explore a range of spaces and performances to a free outdoor festival-style party at DeKalb Market to BAM, where we have incredible facilities and resources to put on a professional show. Each year, the performers change but fans of Everybooty come back for more – knowing they'll get a spectacular night.

What can attendees expect?
Jenny: Magic, mayhem and lots of surprises.

Bumgarner: Four plus floors (the whole building!) packed with readings, performance, dance, bands and DJs. If you come early a beautiful rooftop sunset experience and readings curated by Justin Bond. If you stay late some killer bands and sweaty dancing on a huge sound system.
Everybooty will take place this Friday, June 27 at the Brooklyn Academy of Music. Tickets purchased here by Thursday at 11:59 p.m. will be discounted with the code 30339.