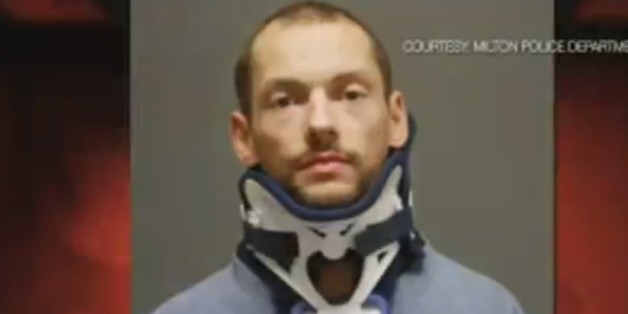 A drug-addled man who claimed he urged his girlfriend to jump from a mountainside cliff to escape a non-existent bear has pleaded not guilty to attempted murder charges.
Authorities allege that it was an elaborate hoax to cover up a failed attempt to kill the girlfriend, according to My Champlain Valley.
Ladonna Merriman, 44, broke her back and punctured her lung, among other injuries, in a 70-foot fall from Georgia Mountain near Milton, Vermont on June 18, the Associated Press reports. She remained hospitalized on Wednesday.
Her boyfriend Lucas Gingras allegedly told police that he had urged Merriman to jump because he believed that a bear was attacking their cabin. Gingras, 28, later admitted that he was high on MDMA and perhaps hallucinated that a bear had endangered the couple, according to WCAX.
But authorities contend that it was all a ruse by Gingras to cover up trying to slay Merriman, who'd recently tried to break up with him.
Police say that Gingras actually kicked Merriman over the cliff's edge last week after spiking her drink with MDMA. He walked down a nearby path and dragged her to a car where he left her, police said.
Gingras returned with a friend who had a rifle. As the injured Merriman sat in the front seat of the car, Gingras fired the gun into the trunk, because he said he saw the bear inside the vehicle.
In an attempt to bolster the bogus bear story, police say Gingras also burned down the couple's cabin as if the fire started during the commotion from the animal.
Prosecutors charged Gingras with attempted first-degree murder, first-degree arson, first-degree domestic assault and reckless endangerment. He faces up to 35 years to life in prison if convicted.
Like Us On Facebook |

Follow Us On Twitter |

Contact The Author
BEFORE YOU GO