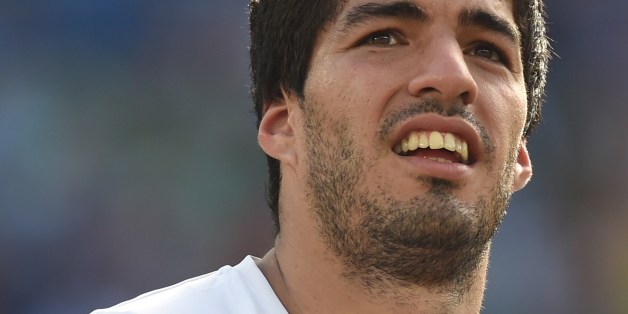 There was at least one person who didn't seem to think it was that big of a deal that Uruguay striker Luis Suarez appeared to bite an opponent during a World Cup match. Amid the cries for FIFA to act and the laughter at the hilarious memes being shared on social media, that person conspicuously suggested any controversy was all much ado about nothing.
That person was Suarez.
In his post-match comments, the 27-year-old goalscorer didn't confirm or deny the suspected bite. But he did express the sort of "anything goes" philosophy that might be expected from a player twice suspended for biting opponents.
"These are things that happen on the pitch, we were both in the area, he thrust his shoulder into me," Suarez said in Spanish after Uruguay's 1-0 win over Italy on Tuesday, via The Associated Press. "These things happen on the pitch, and we don't have to give them so much [importance]."
The incident that was given so much importance by so many came in the 80th minute of a win-and-advance group-stage clash between Suarez's Uruguay and Italy at Estadio das Dunas in Natal. With the game scoreless and Italy already reduced to 10 players by an earlier red card, Suarez appeared to sink his teeth into the left shoulder of defender Giorgio Chiellini.
WATCH: Did Suarez bite a player for the third time, this time Chiellini? #ITAvsURU
http://t.co/Vrpt4lsyts

— ESPN FC (@ESPNFC) June 24, 2014
Chiellini attempted to show what he claimed were bite marks on his shoulder to the referee, but there was no whistle against Suarez on the play. Just a minute later, Uruguay would score the lone goal of the match. The 1-0 win sent Uruguay into the Round of 16 and sent Italy home from Brazil.
"Suarez is a sneak and he gets away with it because FIFA wants their stars to play in the World Cup," Chiellini told Sky Sport Italia, reported ESPN. "I'd love to see if they have the courage to use video evidence against him. The referee saw the bite mark too, but he did nothing about it."