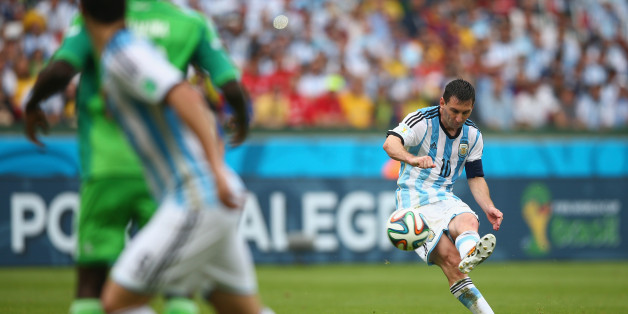 Sometimes Lionel Messi does things on the field for which "magical" seems the most apt descriptor. While that adjective can certainly seem appropriate when discussing his dazzling sleight of foot and preternatural field awareness, it runs the risk of underselling the precise technique and conscious intent behind the difficult feats that the Argentina star can make seem almost effortless.
Such was the case in Argentina's final group-stage game at the 2014 World Cup when Messi froze Nigeria's defense and goalkeeper with an inch-perfect free kick. The goal came in the closing moments of the first half and was Messi's second in Argentina's 3-2 win over Nigeria at Estadio Beira-Rio in Porto Alegre on Wednesday.
What a ridiculous free kick from Messi! He makes it look so easy. Pulling off his own Maradona act in Brazil. WATCH » http://t.co/PY8dgGG8Ep

— ESPN FC (@ESPNFC) June 25, 2014
After winning a free kick approximately 25 yards from goal in first-half stoppage time, Messi stepped up to the ball. Between him and the goal there was a wall of Nigeria defenders. There were four other Nigeria defenders in the penalty area as well five Argentina players. Yet the four-time Ballon d'or winner might as well have been all alone on the field when he unfurled his left-footed shot.
(GIF via @FlyByKnite)
In addition to clearing the wall of defenders just 10 yards away, the ball needed to elude Nigeria goalkeeper Vincent Enyeama, who had not surrendered a goal in the tournament before this match. With one purposeful swing of his left leg, Messi ensured the ball did both, arcing it over the wall and also bending it toward the near post.
(GIF via @FlyByKnite)
The reaction of Enyeama after the ball found its way into his net perfectly summed up the helplessness that Messi can make opponents feel.
(GIF via @Barcelonka_1899)
With Argentina in the lead and both teams in position to advance into the Round of 16, Messi was subbed out of the match in the 63rd minute. Before leaving the field, Messi shared a heartwarming moment with Enyeama, who didn't seem to have any hard feelings about letting up his first goals in Brazil.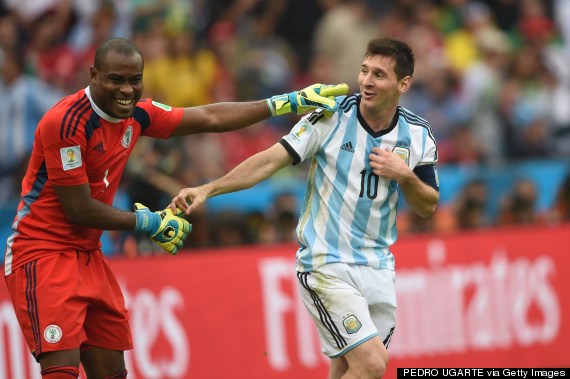 BEFORE YOU GO
PHOTO GALLERY
PHOTOS: Argentina vs Nigeria