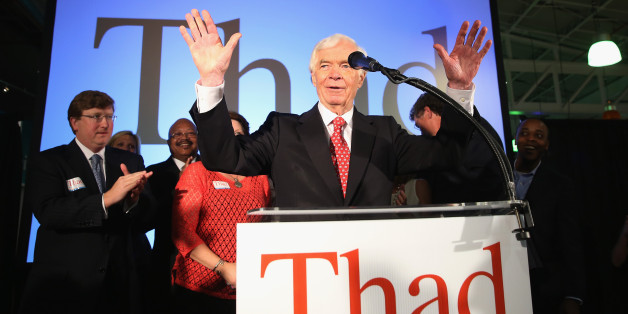 In Mississippi, an unprecedented turnout helped incumbent Sen. Thad Cochran defeat his tea party challenger. We explore why a handful of public polls forecast a different result. Most Americans believe U.S. combat troops will eventually return to Iraq. And the World Cup goes better with a side of burritos. This is HuffPollster for Wednesday, June 25, 2014.
COCHRAN WINS ON HIGHER TURNOUT - Harry Enten: "Tuesday night, Republican Sen. Thad Cochran defied the polls and defeated tea party challenger Chris McDaniel in the Mississippi Senate primary runoff by a 51 percent to 49 percent margin. Cochran couldn't have done it without expanding the pool of voters, and in the last three weeks he did just that. We know turnout was higher in the runoff than it was in the initial primary. About 375,000 voters showed up Tuesday compared with 318,904 on June 3, an increase of more than 17 percent. Cochran raised his vote total by more than 38,000 votes, while McDaniel pulled in only an additional 30,000. That was more than enough to erase McDaniel's nearly 1,386 vote lead in the first round." [538]
Both candidates gained in their strongholds - Nate Cohn: "The increase in the number of voters upset the conventional wisdom that turnout plummets in a runoff election...Instead, weeks of additional mobilization efforts and publicity drove turnout even higher. Perhaps as a result, both candidates tended to perform better in their strongholds than they did in the initial primary...The Cochran campaign's efforts to appeal to Democratic-leaning black voters appeared to succeed. The increase in turnout was largest in heavily black counties, particularly in the Mississippi Delta. Over all, turnout rose by 43 percent in the counties where black voters make up more than 65 percent of eligible voters. Turnout increased by 92 percent in Jefferson County, where African-Americans represent 85 percent of the population, the largest share of any county in the country. But this large increase on a percentage basis was not necessarily huge in raw terms, since black turnout was so low in the initial primary...In terms of total votes, however, the preponderance of the increase in turnout most likely came from white voters. Turnout increased by 15.5 percent in the counties where black voters make up less than 20 percent of eligible voters, about the same as the 15.7 percent increase in turnout statewide." [NY Times]
Did you vote in the Mississippi runoff? Email us at pollster@huffingtonpost.com and let us know how you made your decision.
Why did polls show McDaniel leading? - For two pollsters who released four of the final five public polls on the race, the answer is straightforward: They sampled only voters who said they voted in the first primary on June 3. As such, they missed the new voters that put Cochran ahead. These include both the final two surveys conducted by Democratic firm Chism Strategies, which had McDaniel leading by margins of 6 and 8 points, and another showing McDaniel 12 points ahead fielded by The Polling Company and WomanTrend for a McDaniel-friendly Super PAC. The final release from Chism made the limitation explicit: "Unless Cochran expands the electorate with general election Republicans and crossover Democrats, McDaniel wins." [Chism Strategies, CUPVF]
What about polls that showed a closer race? -- A third pollster, NSON, released a poll commissioned by the Tea Party Express and completed a full week before the election that gave Cochran a one percentage point advantage. However, their press release did not disclose details about what voters they sampled, and another Chism poll conducted at the same time -- which interviewed only June 3 primary voters -- showed a nearly identical one point margin in Cochran's favor. Another area of missing disclosure: excepting Chism (which dialed only landlines), the pollsters did not disclose whether their surveys also called cell phones. [Tea Party Express]
Chism explains the limitations of his surveys - Pollster Brad Chism (D), in an email to HuffPollster: "[W]e had said publicly there were three things than no poll could measure. First, no MS GOP campaign had ever groveled for Democratic votes, and African American votes in particular. Cochran needed less than a 1 % turn around in vote margins. We knew that an IVR [automated, recorded voice] tool was ill equipped to measure this subtle shift among African Americans—the answers we would have sought would have been unobtainable even with a 1,000 person sample survey. The social science research suggests most people of any race will not self report intentions that are contrary to societal norms—and a Black voting for a main stream Republican is certainly atypical. The second thing that no poll would measure is the full extent of conservative white backlash by Cochran's pivot to the 'I've brought home the bacon' message and his unapologetic appeal to Black voters. The turnout numbers show a bump for McDaniel in many rural counties that were beyond Cochran's field efforts. And we see in DeSoto County and Pearl River County, where there is more density among GOP voters and fertile ground for canvassing operations, that the McDaniel numbers grew even bigger. The Tea Party ground troops used the Cochran pivot to their advantage. The third factor no one could measure is whether the Cochran Doomsday message about McDaniel would scare enough moderates to go to the polls. We see mixed results in different parts of the state. But on balance, it worked." [See also further discussion from Chism on the Mississippi outcome]
Other takes on Tuesday's primaries:
-Larry J. Sabato, Kyle Kondik and Geoffrey Skelley list eight possible takeaways from Mississippi. [Politico]
-Chris Cillizza lists the winners and losers from the June 24 primary. [WashPost]
-Philip Bump has five maps that help explain Cochran's win. [WashPost]
-Eric Ostermeier notes that a six-term senator like Cochran is more likely to die in office than lose his party's nomination. [Smart Politics]
-Alexander Burns says Cochran's internal polling showed a narrow path to victory. [Politico]
MOST AMERICANS STEELED FOR RENEWED IRAQ WAR - Dana Blanton: "President Obama's decision to send 300 special-forces advisers to Iraq leads most voters [70 percent] to believe a large number of combat troops will eventually go back there. That's according to a new Fox News poll released Tuesday. The poll also finds that although most voters think the terrorist insurgents will win if the U.S. doesn't help Iraq, a majority says it is more important to keep our troops out of Iraq than it is to stop the fighting. And as the situation in Iraq deteriorates, American voters give President Obama a record-low approval rating on foreign policy." [Fox]
61 percent of Americans now support the decision to withdraw all U.S. troops from Iraq, down from 75 percent in 2011. [Gallup]
Support for military action in Iraq is lower than support for previous conflicts. [Gallup]
2014 AD SPENDING DWARFS 2010 [Kantar]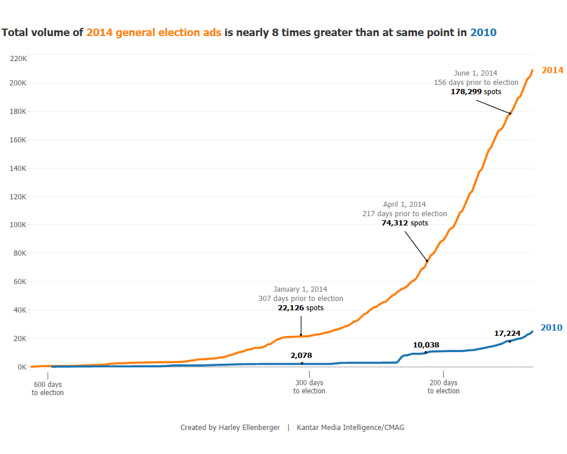 HUFFPOLLSTER VIA EMAIL! - You can receive this daily update every weekday via email! Just click here, enter your email address, and and click "sign up." That's all there is to it (and you can unsubscribe anytime).
WEDNESDAY'S 'OUTLIERS' - Links to the best of news at the intersection of polling, politics and political data:
-Two Florida polls find a close race between Rick Scott and Charlie Crist. [SurveyUSA, Sunshine State News]
-Rasmussen finds Nevada Gov. Brian Sandoval (R) in a strong position for reelection. [Rasmussen]
-The Field Poll gives California Gov. Jerry Brown (D) a 20-point lead. [Field]
-People still really hate Congress. [Rasmussen]
-Democracy Corps (D) and Women's Voices Women Vote Action Fund issue "a populist call to arms;" argue unmarried women can make or break the 2014 election. [DemCorps]
-Glen Bolger (R) says Republicans win when they get at least 46 percent of women's votes. [POS]
-Mark Mellman (D) ponders what "compromise" means to Republicans. [The Hill]
-Accusations of "push polling" fly in the DC mayoral race. [Washington City Paper]
-Nate Silver and Walt Hickey conduct a foodie world cup. [538]