WASHINGTON -- A North Carolina lawmaker tried to convince his colleagues Tuesday that if they want to prohibit discrimination on the basis of sexual orientation, they're going to be protecting people who practice incest, bestiality and pedophilia as well.
During a debate over a charter school bill, the North Carolina House considered an amendment that would have included protections for lesbian, gay, bisexual and transgender individuals, and banned schools from discriminating on the basis of gender identity or sexual orientation.
During the proceedings, state House Speaker Pro Tem Paul "Skip" Stam (R) distributed a handout to his colleagues that asked, "What Is Sexual Orientation?" and listed 30 categories, including heterosexuality, homosexuality and bisexuality, as well as coprophilia, exhibitionism, apotemnophilia and necrophilia.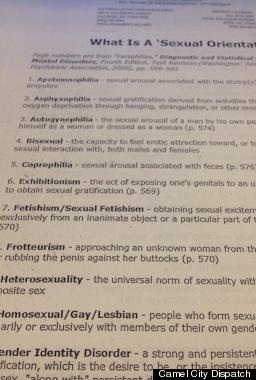 Chart via ERC/Freedom to Work
"Sexual orientation is not defined anywhere. I have here 30 different types of sexual orientation," Stam said on the House floor, adding that he thought it was necessary to specify and "exclude pedophilia, masochism, and sadism, which are sexual orientations."
"Many, many sexual orientations are not ones you want to have teaching kids in school. You may think you know what you mean by this, but you don't. I encourage you to vote against this amendment," he said.
Stam did not return a request for comment from The Huffington Post.
The list he handed out came from a version of the American Psychiatric Association's Diagnostic and Statistical Manual of Mental Disorders that was published in 2000. At the time, the APA didn't even list these 30 categories as sexual orientations, but instead classified them as disorders. What's more, the manual was updated in 2013, and the new version clearly defines sexual orientation as follows:
Sexual orientation refers to the sex of those to whom one is sexually and romantically attracted. Categories of sexual orientation typically have included attraction to members of one's own sex (gay men or lesbians), attraction to members of the other sex (heterosexuals), and attraction to members of both sexes (bisexuals). While these categories continue to be widely used, research has suggested that sexual orientation does not always appear in such definable categories and instead occurs on a continuum (e.g., Kinsey, Pomeroy, Martin, & Gebhard, 1953; Klein, 1993; Klein, Sepekoff, & Wolff, 1985; Shiveley & DeCecco, 1977) In addition, some research indicates that sexual orientation is fluid for some people; this may be especially true for women (e.g., Diamond, 2007; Golden, 1987; Peplau & Garnets, 2000).
State Rep. Marcus Brandon (D), who is the legislature's only openly gay member, told local TV station WRAL that he was sick of LGBT people being treated like "second-class citizens" in North Carolina. The state has no law prohibiting workplace discrimination on the basis of sexual orientation and gender identity. (There is also no such law at the federal level, although many states have enacted their own statutes.)
"Pedophilia is not a sexuality, and we cannot continue in this body to keep calling things something [they're] not. It's offensive to a whole group of people," Brandon said. "It is a disease and a problem that has to be addressed outside of this body."
State House Speaker Thom Tillis (R-N.C.), who is running for U.S. Senate, told WRAL that Stam's actions were "not helpful."
In 2011, Stam spoke out against the legalization of same-sex marriage, saying it would lead to polygamy.
BEFORE YOU GO
PHOTO GALLERY
Anti-Gay Protesters Getting Owned