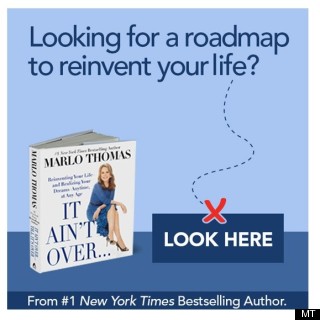 "One of the reasons I started my website is that I wanted a place for women to come together and dream. We women need to know that we don't have to hang on to an old dream that has stopped nurturing us—that there is always time to start a new dream. This week's story, an excerpt from my new book "It Ain't Over Till It's Over," is about Cinnamon Bowser, who couldn't find a company to provide a service that a friend needed – so she created one, which now operates nationwide!" —Marlo, MarloThomas.com
Cinnamon Bowser could think of ten good reasons to start her business. Twenty, if you count both fingers and toes.
It was 2002, and Cinnamon's good friend Wanda was nine months pregnant with her third child. Feeling huge and uncomfortable, Wanda craved one tiny pleasure: to get a pedicure in her own home. Could Cinnamon help?
"I called around from salon to salon, searched the Internet, and couldn't find anyone," Cinnamon recalls. "I said, 'I know this is not New York, where they have everything, but Washington, D.C., is a major market. We should have this service!'"
So she created it herself.
Cinnamon knew nothing about the mani-pedi business—other than getting her own nails done—so she got to work researching nail schools, certification credentials, industry standards, and website design. "I'm so thankful I had an office with a door because otherwise I would have been fired!" she recalls. "I remember so clearly sitting in my office with a girlfriend one whole afternoon brainstorming names for the company. We'd come up with one and then I'd go to the domain name site and it was already taken. Then she said, 'What about Nail Taxi?' I loved it—and it was available. I bought it on the spot."
Cinnamon also took night and weekend classes in entrepreneurship. "I learned about everything from finance to human resources to the legal aspects of owning a business," she recalls. "The classes also taught me how to write a detailed business plan, which I needed in order to get Nail Taxi off the ground."
Now all she had to do was find the customers, but without an actual salon to attract walk-in business, how could she do it?
The answer came when Cinnamon heard about an upcoming women's conference in nearby Falls Church, Virginia. "In addition to the speakers, they were going to have vendors offering chair massages and mini-makeovers. I thought Nail Taxi should participate—the next year. So I sent an email to introduce my company and got an email back ten minutes later saying, 'We want you to come this year.' I panicked. I thought, 'I'm not ready to do this!' But even though I wanted to say no, I said yes."
Article Continues Below Slideshow
PHOTO GALLERY
Cinnamon Bowser
She's glad she did. Cinnamon's two nail technicians were booked the entire day at the conference, giving mini-manicures. And at the end of the day, Cinnamon kept the sign-up sheet and used it as the beginning of Nail Taxi's client list. "Afterward, those women at the conference called to schedule more appointments. Most important, they told other women in the area about us.
That one event is really what got Nail Taxi out of the gate." Within five months, Nail Taxi had so much business that Cinnamon decided to quit her job. "It was bananas. It got so crazy that I was spending a lot of my time at work answering emails and calls from Nail Taxi clients.
But the business was giving me such fulfillment, I thought, I have to roll out of here."
Cinnamon also realized she needed to go to nail school and actually learn how to do mani-pedis herself. "I figured that if I was ever in a crunch, I could be that extra pair of hands," she says. So she enrolled at a nearby school operated by two Vietnamese men in the back of a nail salon. "It was a challenge. I was not what you'd call a natural."
What Cinnamon was really good at was marketing her business. That first year, she'd send out a press release every six weeks about Nail Taxi, emphasizing the mobility of its services: Technicians would go to homes, hospitals, senior centers, parties, weddings—wherever.
"Those releases got an incredible response," she says, "which led to media coverage, which led to more business. It helped that this was a feel-good story. In between articles about budget cuts or schools under-performing, here was a story about a service for women and men who cannot get out and have their nails done. Even though it's a small thing, a manicure can change a person's outlook on her day."
Today, besides the D.C. area, which Cinnamon oversees herself, Nail Taxi has licensing agreements in ten other major U.S. cities, Canada, and the Bahamas.
Nail Taxi has done in-store events and promotions for companies like Neiman Marcus, Stride Rite, and Guess. It has worked with designers to prep models for Mercedes-Benz Fashion Week in New York. CoverGirl even hired the company for a two-day "NailGating" event at Baltimore's Inner Harbor before the Ravens' 2013 season opener. The "fan-icures," done by a team of ten technicians, featured the Ravens' team colors—purple, black, and gold—in a variety of designs. The day's only bad news: The Ravens were shellacked by the Broncos, 49–27.
That kind of promotional work has been a delightful surprise to Cinnamon.
"When I started out, I thought most of my clients would be women in the hospital, on bed rest, pregnant women, seniors. I was not thinking Fashion Week and the NFL!"
Nine years after starting her business, Cinnamon's restless days are behind her. "I love running Nail Taxi. No two days are the same, I get to work with creative people, and the hours are flexible. So if I want to go on a field trip with one of my three kids, I don't have to ask someone—I can just go and enjoy it."
* * *
To find out more about how Cinnamon launched Nail Taxi -- and to read 59 other inspiring stories -- buy your copy of "It Ain't Over Till It's Over." Click here.
Add Marlo On Facebook:
Follow Marlo on Twitter:
Sign up to receive my email newsletter each week - It will keep you up-to-date on upcoming articles, Mondays with Marlo guests, videos, and more!