After enjoying a gratis three-course meal at a swanky New York City restaurant, a group of homeless people couldn't help but feel disappointed.
About 200 homeless people had been looking forward to the tony event on Wednesday since Chinese multimillionaire Chen Guangbiao took out ads in both The New York Times and The Wall Street Journal earlier this month saying that he would treat struggling New Yorkers to a nice meal and some free money.
The recycling magnate kept his first promise on Wednesday afternoon when he paid for about 200 people from New York City's Rescue Mission to eat such delectable treats as sesame-seed-encrusted tuna and beef filet at the Boathouse in Central Park on his dime, according to NBC New York.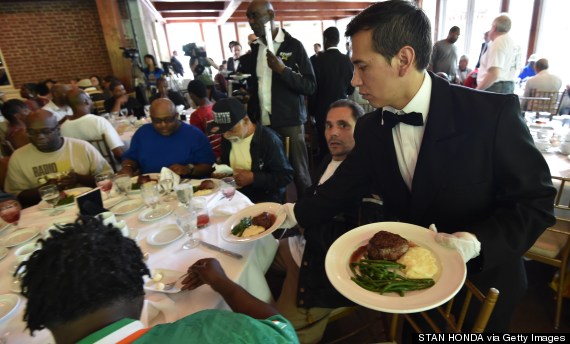 A waiter serves meals as Chinese philanthropist Chen Guangbiao hosts a lunch for several hundred homeless people from the New York City Rescue Mission June 25, 2014 at The Boathouse restaurant in New York's Central Park.
Before heading up to the park, Chen began stretching his charitable muscles by handing out $100 bills to passersby in the downtown area near the homeless shelter, the New York Post reported.
#classicNYC --> Chinese tycoon struggles to give away $100 to suspicious New Yorkers http://t.co/lVxjEZ2Bz1 pic.twitter.com/jQ3zQvESaU

— connor ryan (@connortryan) June 25, 2014
But the vibe went from joyful to jeering after the crowd learned that it would not be receiving any cash at the luncheon.
Chen had announced early on in the event that each guest would each get $300, according to The New York Times.
But the Mission had not agreed to that aspect of the itinerary.
Craig Mayes, the group's executive director, told the Chinese philanthropist that he could not give money to the guests. He told the Times that he was concerned that the guests might use the funds to buy alcohol and drugs.
Chen agreed instead to donate $90,000 the Rescue Mission, a gesture the organization appreciated but the guests did not.
"Are you serious?" attendee Tom Cargill, 52, told the Times after hearing the news. "I feel so disappointed right now I'm going to throw up."
Officials from the Rescue Mission did allow the philanthropist to give $300 to a number of clients, but that was just a symbolic gesture. They had to return the money after.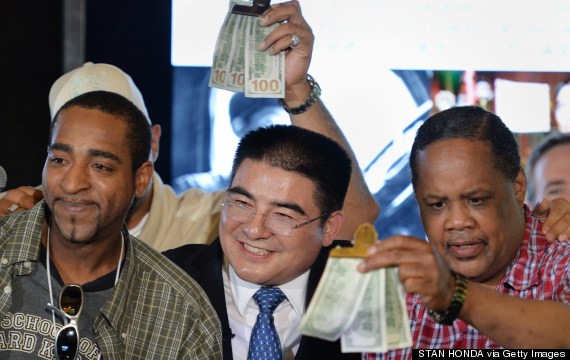 Chinese philanthropist Chen Guangbiao (C) poses with men holding gifts of money as he hosts a lunch for several hundred homeless people from the New York City Rescue Mission June 25, 2014 at The Boathouse restaurant in New York's Central Park.
While Chen has received flak for failing to fulfill his vow, many experts in homelessness would likely agree that the Mission made the right decision.
A Department of Housing and Urban Development report found that six out of 10 homeless respondents admitted to having alcohol or drug problems, the Atlantic reported back in 2011.
Some advocates say that giving homeless people money can feed such habits, and often doesn't help people living on the streets to make meaningful changes in their lives.
"Since panhandlers often have no way to save their money, they're incentivized to spend most of their day's earnings quickly," Derek Thompson wrote in a piece for the Atlantic. "This creates a tendency to spend on short-term relief, rather than long-term needs, which can feed this dependency on alcoholic relief."
Chen said he wanted to raise awareness for the struggles poor people face and to inspire other wealthy people to try and make a difference through his event.
"The important thing to me is not the money I'm donating, but to have people take notice of the plight of poor people," Chen told the New York Post. "This, for me, is a journey of gratitude, not a journey of charity."
BEFORE YOU GO
PHOTO GALLERY
9 Biggest Charitable Gifts Of 2013