Amid the hubbub of Thursday's World Cup match between Germany and the United States, a curious fan ran onto the field in the 87th minute, yet failed to cause much of a disturbance.
While there was little to no mention of the German fan's appearance broadcast on TV, here's how The Telegraph's live blog recounted the incident:
Oh I think a streaker has got on the pitch. We're not allowed to see it on TV because, you know, FIFA = Stalin etc and we might all get ideas and start, er, running from here to Brazil naked or something. Or maybe the guy's bum wasn't bearing an official sponsor's logo.
The unnamed man, who isn't actually naked in photos from the incident, unfurled a Bayern Munich flag as U.S. midfielder Michael Bradley looked on, unimpressed: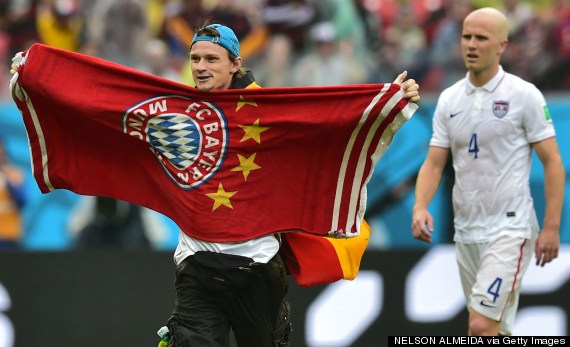 German forward Thomas Mueller acknowledging the fan: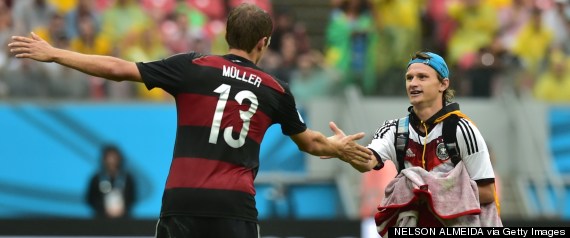 Then the man was ushered off the field under the gaze of U.S. player DaMarcus Beasley: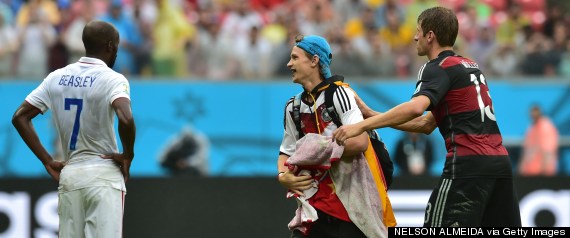 Much more civil than this incident during the 2010 World Cup match between Germany and Spain: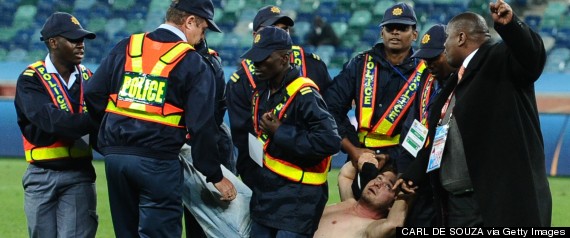 Germany ultimately won the match 1 - 0, setting up both teams to progress to the next round of the World Cup. The U.S. will play its next match on Tuesday, July 1.
Visit HuffPost Sports for more World Cup coverage, and check out tournament stats at our World Cup dashboard.
BEFORE YOU GO
PHOTO GALLERY
PHOTOS: US vs Germany