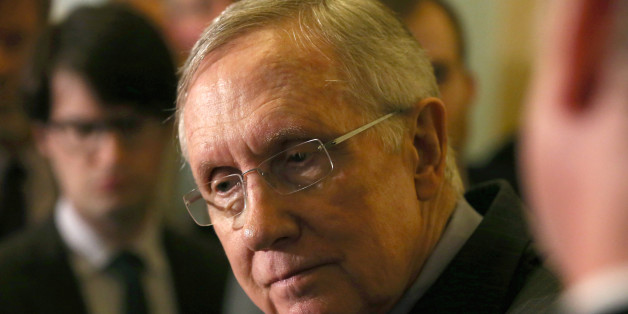 Senate Majority Leader Harry Reid (D-Nev.) conceded that his effort to distinguish between the money spent by Sheldon Adelson in politics and the money thrown around by the Koch brothers may have left a bit to be desired.
Reid has savaged the billionaire Koch brothers, Charles and David, energy moguls who have invested heavily in the GOP and on efforts to block policies that would combat climate change. But when asked about Nevada casino giant Sheldon Adelson, who has used his money to fund the GOP, fight unions and beat back online gambling, Reid struck a more conciliatory tone.
"Sheldon Adelson, don't pick on him," he told NBC's Chuck Todd. "He's not in this for money. He's in this because he has certain ideological views."
In an interview with The Huffington Post, Reid was asked about a Daily Show segment that lampooned the flimsy distinction.
Instead of trying to defend the proposition, Reid chalked it up to home-state politics.
"Hey, what did I just tell you about home-state politics? Sometimes, you step on your whatever," he said, employing an idiom that in its more common form would not pass Mormon muster.
Earlier in the interview, Reid had been asked about Democrats who cave to the coal industry and responded, "Well, I don't know that they cave to the coal industry, just as I don't cave to the hotel-casino business. They represent states."
Sign up below to get an email when Ryan Grim publishes a new story
BEFORE YOU GO