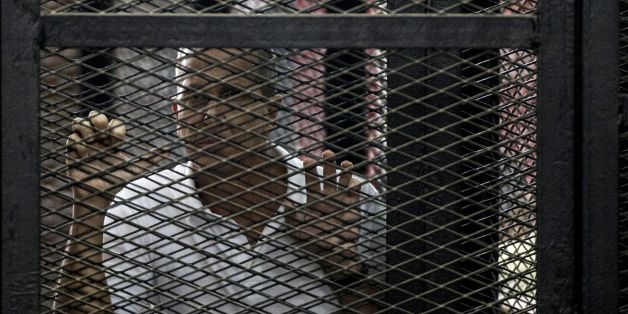 Al Jazeera's Peter Greste said that he is "devastated and outraged" by his conviction in an Egyptian trial that has been widely regarded as a farce.
The journalist spoke out through a Facebook post on Wednesday after being sentenced to at least seven years in Egyptian prison. Greste, along with his two colleagues Mohamed Fahmy and Baher Mohammed, was convicted on Monday of airing false news and working alongside former president Mohamed Morsi's Muslim Brotherhood.
Greste denounced the trial and said he would do everything he could to get justice. The trial has been criticized for its almost comically paltry lack of evidence, with international observers seeing it as a blatant attack on press freedom.
"The verdict confirms that our trial was never simply about the charges against us," he said. "It has been an attempt to use the court to intimidate and silence critical voices in the media."
Since the ruling, several news organizations and human rights groups have spoken out against the sentencing. U.S. Secretary of State John Kerry called the verdict "chilling." Amnesty International called Monday's court ruling a "dark day for media freedom." For months, journalist protection groups and supporters of media freedom have called out for the release of the three men. Al Jazeera said Monday that the decision only confirms that people must fight harder than ever now to free its journalists. Greste said he is "grateful for the extraordinary and unprecedented public support" he and his colleagues have received.
"We must all remain committed to fight this gross injustice for as long as necessary," he concluded.
Read Greste's full Facebook post here.
(h/t: The Guardian)