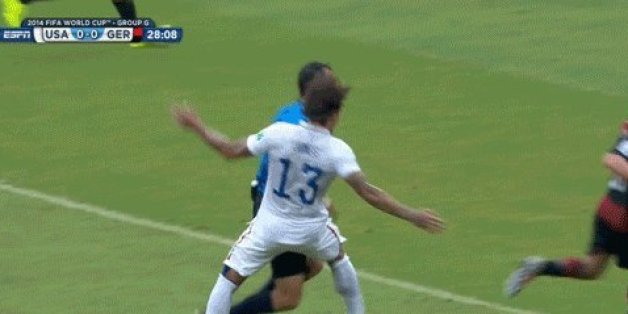 Contending with Germany is never an easy task at the World Cup. It becomes that much harder when the referee is accidentally helping the Germans out on defense.
With the U.S. surging toward the Germany goal on the counterattack in the 29th minute of the first half of their group-stage clash on Thursday, midfielder Jermaine Jones collided with referee Ravshan Irmatov at the edge of the penalty area. Jones didn't see the referee and went down hard as he run in on goal.
(GIF via @cjzero)
Jones remained down on the soggy field in Recife as a cross from U.S. defender Fabian Johnson was cleared away.
"Does Jermaine Jones get up and give the referee a yellow card here?" ESPN commentator Ian Darke asked upon watching a replay.