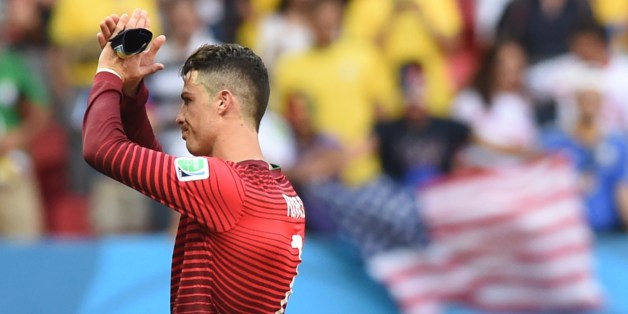 What a difference a goal makes.
Cristiano Ronaldo became an unlikely hero to many U.S. Soccer fans just days after he broke so many of their hearts. With the U.S. trailing Germany deep into their match on the final day of play in the Group of Death, American fans were nervously eying the deadlocked clash between Portugal and Ghana being played simultaneously. For 23 tense minutes, Ghana pressured the Portugal defense, looking for a goal that could have potentially eliminated the U.S. team.
Then Ronaldo stepped up for Portugal -- and the United States.
The Portugal star scored against Ghana in the 80th minute, putting his team on top in Brasilia and giving the U.S. some breathing room in Recife. His goal would be the last in Group G as Portugal held on for a 2-1 win over Ghana. That result helped the U.S. advance out of the "Group of Death" despite losing 1-0 to Germany.
(GIF via @FlyByKnite)
The left-footed blast seemed to make amends for the late equalizer Ronaldo set up to rescue a 2-2 draw for Portugal against the U.S. in their group-stage confrontation. Once it was buried in the back of the Ghana net, U.S. fans on Twitter got busy offering thanks and paying tribute.
Never thought I'd say this, but thank you, Ronaldo.

— James Dashner (@jamesdashner) June 26, 2014
Thank you Ronaldo you sir are a true American!🇺🇸🇺🇸🇺🇸 pic.twitter.com/E35FhHqAbB

— Danny Chaid (@DannyChaid) June 26, 2014
Cristiano Ronaldo: American hero. Wow, that feels weird to type #WorldCup2014

— Chat Sports (@ChatSports) June 26, 2014
— jay (@jcmitrano) June 26, 2014
Ideally, an American woman will marry Ronaldo so we can take him with us to the knockout round. #ImmigrationReform

— Ethan J. Skolnick (@EthanJSkolnick) June 26, 2014
RONALDO UPDATED HIS HAIRCUT! #USMNT pic.twitter.com/C5B6QpY34C

— Matt Sebek (@MattSebek) June 26, 2014
Side effects of Ronaldo gratitude may include dizziness, loss of appetite, irregular heartbeat, sweating, nausea and vomiting.

— pourmecoffee (@pourmecoffee) June 26, 2014