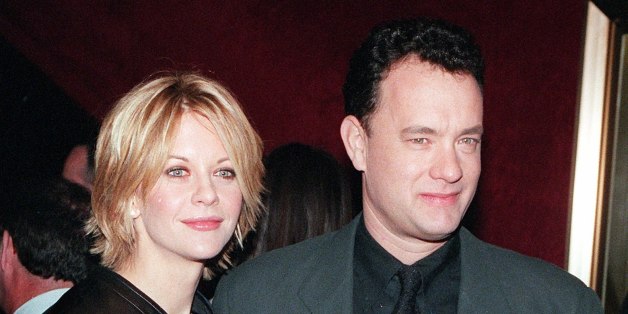 Tom Hanks and Meg Ryan are likely to reunite onscreen in "Ithaca," the film adaption of William Saroyan's 1943 novel, "The Human Comedy." "Ithaca" will be Ryan's directorial debut, and earlier this year reports confirmed that Hanks would serve as the film's executive producer, reuniting the "Sleepless in Seattle" co-stars at least, behind the scenes.
Now, The Hollywood Reporter learned that Hanks is in talks to make a cameo in "Ithaca." The movie is set in 1942 California's San Joaquin Valley and is described as a coming-of-age story about life on the home front. Fourteen-year-old Homer Macauley is a telegraph bike messenger and his brother has gone to fight in World War II. Homer is left to take care of his widowed mother, older sister and little brother. THR reports that Hanks will likely play Homer's father. Ryan also stars alongside Melanie Griffith, Sam Shepard and Ryan's son Jack Quaid.
This will be the fourth time Ryan and Hanks have been in a movie together, and the first time since 1998. "Joe Versus the Volcano," "Sleepless in Seattle" and "You've Got Mail" cemented their status as the rom-com dream team.
[via THR]
BEFORE YOU GO
PHOTO GALLERY
When TV Stars Reunite!