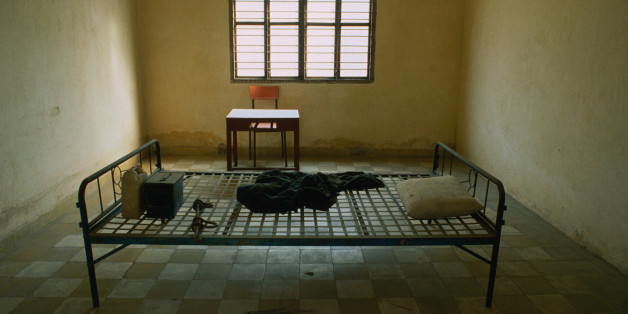 Though it has been 30 years since an international treaty deemed torture illegal, the grisly practice is still widely implemented and the United Nations is determined to put an end to it.
Thursday marks International Day in Support of Victims of Torture, an awareness event that publicizes the indignities torture victims face, the support programs that help them heal and the long road ahead to putting an end to the practice.
"As we honor the victims on this International Day, let us pledge to strengthen our efforts to eradicate this heinous practice," U.N. Secretary-General Ban Ki-moon said in a statement.
The Torture Convention, which declared the use of torture illegal under any circumstances -- including armed conflict -- was first adopted back in 1984. The treaty also states that any information obtained under torture may not be used in courts of law.
Since then, 155 United Nation member states have ratified the treaty, and have committed to prosecuting perpetrators and providing redress to victims and their families.
But 41 countries have still declined to sign the treaty, according to the U.N., allowing such psychological and physical torture as rape, water boarding, burning and sleep deprivation to go on.
The U.N. hopes that its awareness event, which was first instated back in 1998, will put pressure on those countries to eradicate their torture practices.
"This is a day on which we pay our respects to those who have endured the unimaginable," Kofi Annan, then-U.N. secretary-general, said in a statement on the first International Day in Support of Victims of Torture. "This is an occasion for the world to speak up against the unspeakable."
In addition to getting more countries to speak out against torture, there are now more rehabilitative programs in place to help survivors of torture. Through grants awarded through non-governmental organizations, the United Nations Voluntary Fund for Victims of Torture provides torture victims and their families access to medical care, legal help and rehabilitation centers.

Still advocates say, there is an overwhelming amount of work to be done in order to ensure countries stop using torture and that there is no situation that justifies its use.
"Torture is an unequivocal crime ... Neither national security nor the fight against terrorism, the threat of war, or any public emergency can justify its use," Navi Pillay, U.N. high commissioner for human rights, said in a statement. "All States are obliged to investigate and prosecute allegations of torture and cruel, inhuman or degrading treatment, and they must ensure by every means that such practices are prevented."