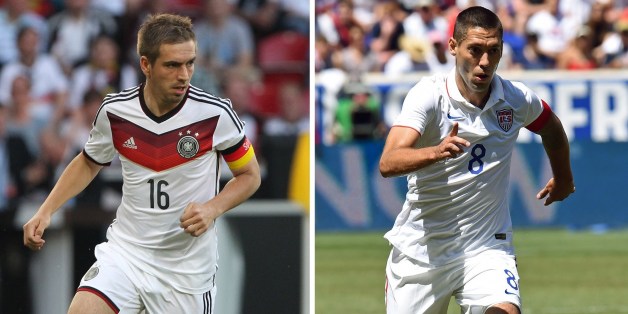 It's go time for the U.S. at the 2014 World Cup. It's time to go through to the Round of 16. Or it's time to go home.
The next destination of the U.S. men's national soccer team will be determined by a pair of simultaneous games involving all four teams in the "Group Of Death" on Thursday. Still in control of its own destiny, the U.S. squad will face off against Germany in Recife while Ghana and Portugal tangle in Brasilia. All four teams kick off with a chance to advance -- and be eliminated.
USA vs. Germany
WHERE: Arena Pernambuco, Recife
TIME: 12 p.m. ET
TV: ESPN, Univision
The U.S. came agonizingly close to securing a spot in the Round of 16 in its previous group-stage match but was denied when Cristiano Ronaldo set up a last-minute Portugal equalizer. With a win over Ghana in its opener and that heartbreaking draw with Portugal, the U.S. can punch its ticket to the Round of 16 with a win or a draw against Germany. The No. 2 team in the latest FIFA rankings, Germany also is guaranteed to move forward with either a win or a draw.
"Both teams go into this game and they want to win the group," Klinsmann, a former Germany striker and coach, said ahead of the match when asked about the possibility of playing for a mutually beneficial draw, via The Guardian. "So we go into this game and try to beat Germany. To put ourselves in the driver seat for the last-16, that is our goal."
Should the U.S. fail in its goal of beating -- or even tying -- Germany then it will need some help from the Portugal-Ghana contest to advance. Even with a loss to Germany, a draw in the other Group G finale would send the U.S. into the knockout stage. A close win by Ronaldo's Portugal coupled with a narrow defeat to Germany would also send the U.S. through to the next round on goal differential. The tiebreakers could go against the U.S. should it lose to Germany while Ghana defeats Portugal.
SCROLL DOWN FOR LIVE UPDATES, SCORES, HIGHLIGHTS:

06/26/2014 1:53 PM EDT
US-Germany Over
Germany wins 1-0.
06/26/2014 1:52 PM EDT
Two U.S. Chances
U.S. nearly equalizes, twice. A strong surge is broken up by Lahm and then Dempsey's header goes just over.
06/26/2014 1:51 PM EDT
U-S-A Chant
Fans in Recife are chanting for the U.S as extra time advances. Neuer has the ball near the German goal and seems in no hurry to get anything going.
06/26/2014 1:49 PM EDT
Stopage Time
Both games are playing four minutes. Results currently send U.S. through...
06/26/2014 1:47 PM EDT
Beasley Goes Forward, Gets Whistled
The referee with a whistle against Beasley after not calling anything when Dempsey got knocked down in a crowd.
06/26/2014 1:45 PM EDT
Tick Tock
U.S. pushes ahead, Germany goes back the other way. Klose is called offside to end that attack.
06/26/2014 1:42 PM EDT
VIDEO: Ronaldo Gives Portugal A 2-1 Lead!