 If you're anything like us, you spend too many nights dreaming of a chance to see Neil Patrick Harris all dolled up in daisy dukes and stiletto heels, belting out "Sugar Daddy" on the big stage.
Well, Groupon is actually offering a chance to see Broadway's hot item and recent Tony-winning musical, "Hedwig and the Angry Inch" -- in the form of a sweepstakes. The coupon (read: entry into a contest) includes a trip to New York, a spot at his packed show and a drink with NPH himself, all for the basement price of $10.
Yup, $10. That has to be the best bargain on the internet.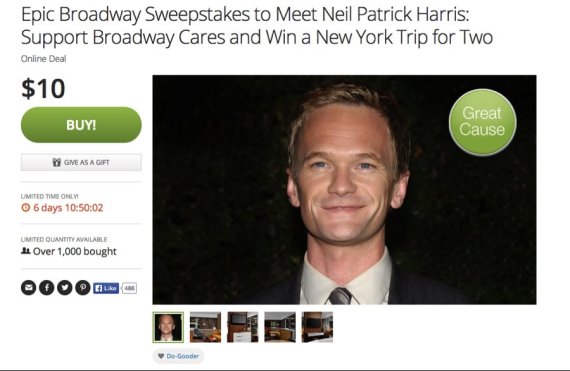 All proceeds from the sweepstakes go toward Broadway Cares/Equity Fights AIDS, which supports people across America living with HIV/AIDS. "I can't think of greater motivation for giving my best performance than knowing that tickets to 'Hedwig and the Angry Inch' are contributing to the cause," Harris commented. "And that we get to share a stiff cocktail after the show."
We always knew we liked him.
The endeavor runs until July 3 (the winner will be drawn on Thursday, July 10). Make a donation here and, come August 8, you may find yourself singing along to the cult rock opera with your new BFF Neil. At the very least, you'll have supported a worthy cause. See the many perks of the prize here and get your hopes up with Harris' epic Tony performance below.
BEFORE YOU GO
PHOTO GALLERY
Tony Award Winners 2014