Former Secretary of State Hillary Clinton has been on the move to draw attention to her new book, Hard Choices. But no matter how hard she promotes the memoir, readers in mainland China may not get to read it.
According to BuzzFeed, Hard Choices won't be sold in mainland China because Chinese publishers have declined to purchase translation rights. Other countries bought translation rights to the book "blind," without reading a copy in advance, according to BuzzFeed.
"No one in China was willing to buy the book blind because the political sensitivities involved in publishing any author who might be critical of China," said Jonathan Karp, president of Simon & Schuster, the publisher of the book.
The book will not be sold in English either: One of China's largest import agencies will not allow distribution of an English-language edition. The day after Clinton's book hit stores in the U.S., executives at Simon & Schuster were told by Shanghai Book Traders, which supplies foreign books to Amazon China, that the title would not be approved for sale in China. The decision came only after the agency was able to screen the book, the publisher said. As a result, Hard Choices was removed from the country's Amazon site.

Hard Choices has been received well in nearly every major international market, except for China, Simon & Schuster said. In total, 16 other countries have purchased foreign rights to the book, which was released in the U.S. on June 10.

Simon & Schuster president Jonathan Karp said in an interview that China's response to Clinton's book amounts to an "effective ban" by the country.
According to Nielsen BookScan data, Clinton has sold almost 135,000 copies of her new memoir, putting conservatives' book sales to shame.
Clinton has had a few surprises on her still-ongoing book tour. She ran into "Glee" actor Chris Colfer at a book signing in Los Angeles, and saw Supreme Court Justice Sonya Sotomayor during a signing at a Costco in Arlington, Virginia.
Read more at BuzzFeed.
UPDATE -- 3:50 p.m.: Simon & Schuster sent the following email referencing the "ban" to the mailing list for the book on Friday afternoon: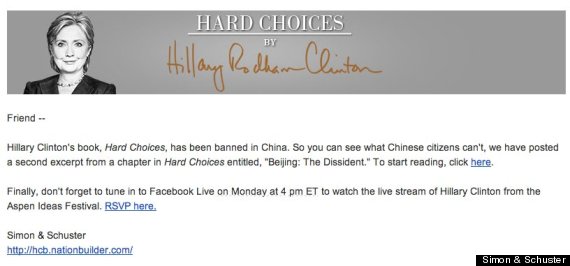 This story has been updated.
BEFORE YOU GO
PHOTO GALLERY
Mitch McConnell & Alison Lundergan Grimes