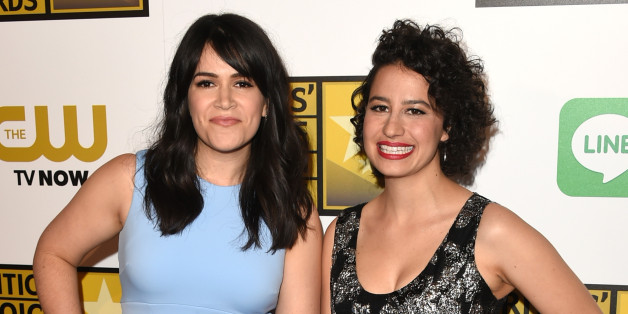 With every other female celebrity weighing in on their feminist (or non-feminist) identity, it's no surprise that "Broad City's" Ilana Glazer and Abbi Jacobson were asked "Are you a feminist?" on the red carpet on June 19. The hilarious duo answered the question with a slight shrug and a "well, obviously" look.
PopSugar spoke with Glazer and Jacobson at the Critics' Choice Television awards where "Broad City" was up for best comedy. When asked if they shied away from using the word feminist, Jacobson said, "I would totally say I'm a feminist. I don't find it to be negative at all." Glazer nodded along and agreed, telling PopSugar, "I feel like a feminist is gender equality. You know, we're feminists... the people who work on the show are feminists."
Later, Jacobson revealed that she regularly binge-watches Netflix shows (just like the rest of us), with her favorite being "Orange Is The New Black." Glazer on the other hand has a healthy addiction to the home shopping network QVC.
That's a W in our book, ladies.
BEFORE YOU GO
PHOTO GALLERY
Amy Poehler And Tina Fey Being Best Friends