On the surface, the country's biggest companies are extremely gay-friendly.
More than 90 percent of Fortune 500 companies offer protection against discrimination based on sexual orientation, up from 65 percent in 2004, according to the Human Rights Campaign. Two-thirds of those companies offer health benefits for same-sex couples, and many provide mentoring, training and education around LGBT issues.
Yet behind these policies lies a corporate culture years away from actually achieving equality, according to interviews with advocates, diversity leaders and LGBT employees of large U.S. corporations.
One statistic tells that story: There are no openly gay CEOs at any of the country's 1,000 biggest companies, as The New York Times reported last month. Until there are LGBT people filling the top slots at these businesses, no policy change will level the playing field within corporate America, said activists and workers at these companies.
(Story continues below.)
"When people see that 90 percent of companies have nondiscrimination policies in place, that's great. But to me, a better indicator, is, how many senior leaders are there who are gay and who are out?" said Todd Sears, a former financial adviser at Merrill Lynch who now runs Out on the Street, an organization that helps companies recruit and retain LGBT talent. "If LGBT people look around and they don't see other LGBT people who are out, if they don't hear inclusive messages, they're not going to feel valued."
Erika Hempel, who is openly gay, works at what she describes as a "mid-level" marketing job at Bloomberg's trading division, the London-based Bloomberg Tradebook. On the side, she heads the branch's LGBT resource group, Be Proud. Hempel says the company is accepting but notes there aren't a lot of openly gay senior leaders in her office.
"I'm not sure why not," she said. "We definitely need to work more on that. It gives you someone to look up to who looks like you. Like, 'Oh, she's done it. Maybe I can do the same.'"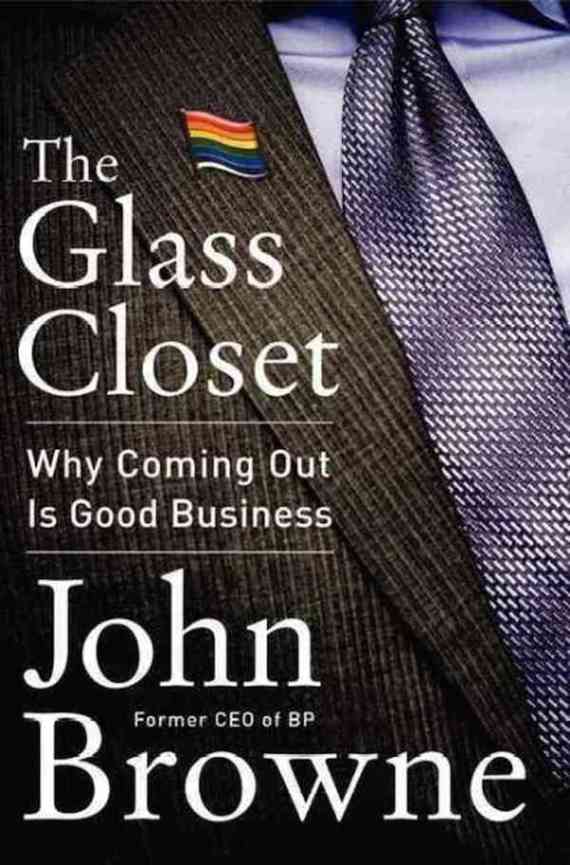 Browne's book on being a closeted CEO debuted in June.
The issue is in the spotlight again with the recent release of a book by Lord John Browne, the former chief executive of BP, titled The Glass Closet. Browne resigned from the British oil company in 2007 after being outed by the press for having had an affair with a male escort. Browne said he hid his sexuality while working at the company because he was afraid that coming out would be bad for business. The oil industry was "macho," he explained in an op-ed in the Financial Times last summer, and he "wanted to conform."
Browne says now that he believes he was wrong, and that it's ultimately better for a company's profits when gay workers don't have to hide their identities. "When people can be themselves, they're not using half their brain trying to figure out how to be something they're not," Browne told Bloomberg Businessweek recently. (Today, BP prohibits discrimination based on sexual orientation and gender identity and extends health benefits to same-sex couples, although it's not clear when the company adopted those policies.)
According to a 2014 study by the Human Rights Campaign Foundation, 53 percent of LGBT workers nationwide still report having to conceal their identities while at work. There is still no federal law that prevents LGBT employees from being fired over their sexual orientation or gender identity, and only 21 states have those laws.
Former BP CEO John Browne resigned in 2007.
The Huffington Post spoke with one woman who is a lesbian but not out at work. She works for a large home security company in Virginia, where private employers can still legally fire people for being gay. Although the company prohibits discrimination based on sexual orientation and says it will start offering same-sex partner benefits this summer, she's still afraid to come out to her coworkers.
"They feel like they know me, but they only know the tip of the iceberg," she said. "It causes stress. I live a life full of stress, on top of all the normal stresses."
One reason for her reluctance to come out, she said, is her coworkers' attitudes. "They make gay jokes or derogatory references to gay people," she said. In an office of 25 employees, only one employee is openly gay. "I get the impression my boss doesn't like her because she dresses like a man and has short hair," she said. "When he comes into the room [with a guest] and introduces [workers], he just walks by her desk and doesn't introduce her."
For LGBT workers, having to cover up who you are at work can mean changing everything from your mannerisms and voice to the kinds of pictures you frame on your desk. It also affects casual conversations with coworkers. "You're gonna be careful about how you describe your evenings and weekends. You're going to have to change pronouns," said Tom Lynch of Out and Equal Workplace Advocates, a San Francisco-based nonprofit devoted to making workplaces safe and equitable for LGBT employees.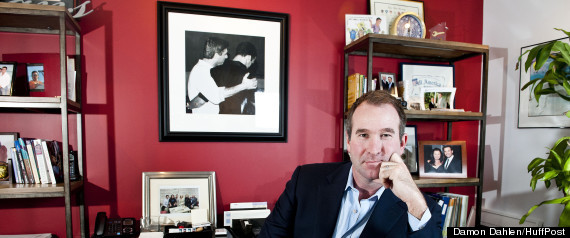 Former investment banker Todd Sears now runs an organization that helps financial companies understand LGBT employees.
"I avoid saying anything romantic that my girlfriend and I do," said the Virginia woman. "We've been together 15 years, but when I'm at work I still refer to her as my roommate. When my coworkers consistently ask why I'm not married, I just tell them I'm really focused on work and school."
"Covering," as it's called, is widespread. Twenty-three percent of gay men and 15 percent of gay women believe that covering their identity has helped their careers, according to a 2013 report from the Center for Talent Innovation, a New York-based organization that helps corporations leverage talent from women and minorities.
"I've talked to college graduates who have two sets of resumes because they're not sure how potential employers will feel about the fact that they volunteered for the Gay-Straight Alliance in high school," said Winnie Stachelberg of the Center for American Progress, a liberal think tank. "Given the economy that we're in right now and how hard it is to get a job, why would you take that chance?"