Women are currently persecuted for baring their breasts in public in New York. On a global level, women who bare their chests often face more severe disciplinary measures. Whether or not you've ever personally felt the urge to shop for groceries sans shirt, the very existence of the prohibition -- which, of course, does not apply to men -- illuminates how women's bodies are regarded as being inherently obscene. This is a problem.
A New York artist who goes by the pseudonym Narcissister is taking over the city streets with a performance aimed to promote self-acceptance and unadulterated freedom for women and their breasts everywhere.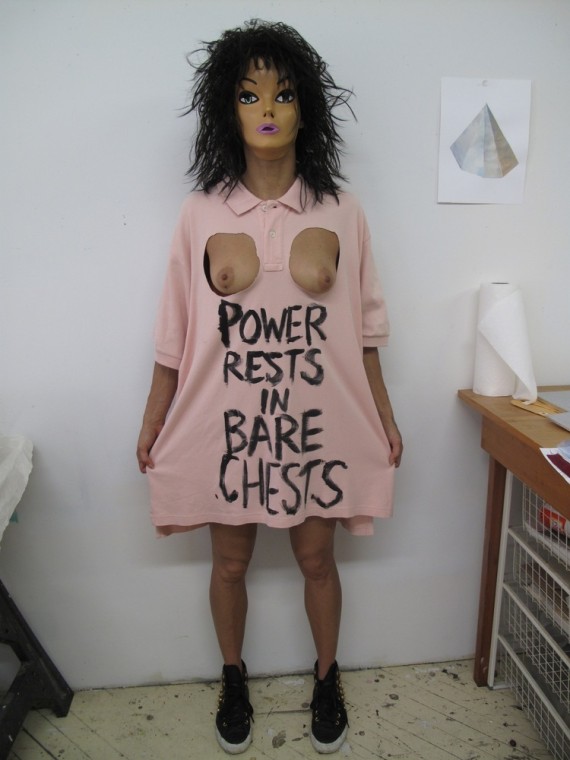 Narcissister is an anonymous performance artist who transforms obsessive self-love into a form of political activism. Masked in a slightly terrifying Barbie doll mask, she's shocked the judges on America's Got Talent and invented the "reverse striptease" -- which, in case you're unfamiliar, consists of pulling clothes out of your private parts. All in the name of feminist freedom.
Our favorite vanity vigilante has created a video installation showcasing photos of different women each wearing the iconic Narcissister mask and no shirt, performing mundane daily activities from going shopping to dropping off their kids. In every image, the body is treated as what it is -- not an eroticized commodity, but the vehicle through which over half the population exists in the world.
The piece, seeking to cast a critical eye on the policing and objectification of women's bodies, recently exhibited at Petrella's Imports, a newsstand on NYC's Bowery and Canal that has been turned into an art space.
"There's this idea that women's bodies are fundamentally sexual and consequently, inappropriate to be seen in the public arena," Narcissister explained to Metro. "[This project] is about women enjoying a broader experience with their bodies and in their bodies the way that men do … I want to question whether this law or other laws are built on stereotyping and discrimination have been unconsciously built into law."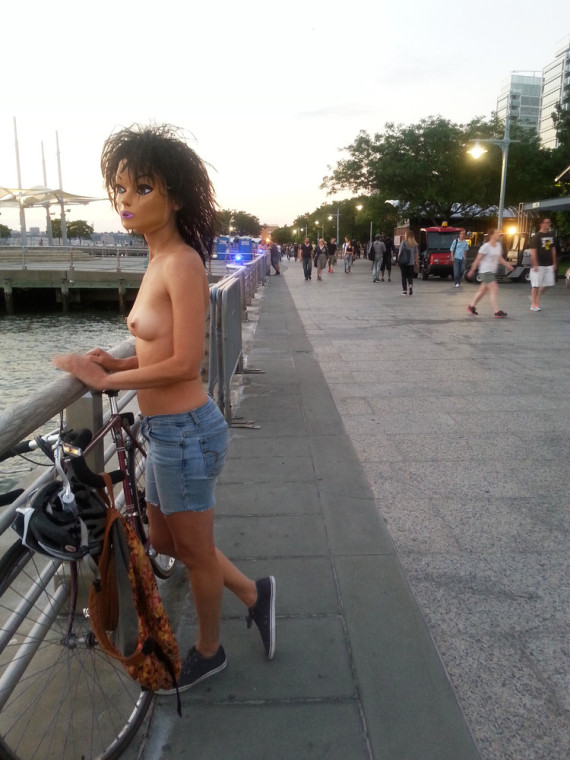 She continued in an email to The Huffington Post: "Does the enforced covering of women's breasts reinforce a collective obsession with them, perpetuating sex-negativity and sex-related shame? What larger cultural shift could occur if women freely exercised their right to bare their breasts on their own terms, their sexuality fully embodied and belonging to them alone?"
Narcissister isn't the first woman to take issue with the national paranoia around nipples. Celebrities like Rihanna and Scout Willis have sparked an online movement to #FreeTheNipple, again targeting the idea that women's bodies are taboo, indecent, or pornographic.
"What I am arguing for is a woman's right to choose how she represents her body -- and to make that choice based on personal desire and not a fear of how people will react to her or how society will judge her," Willis wrote in a blog on XO Jane. "No woman should be made to feel ashamed of her body."
Narcissister's movement, invoking a combination of banality and otherness that stops you in your tracks, doesn't condemn eroticism, vanity or attention. She just demands it on her own terms. As the bold artist explained to Next Magazine: "I think my work is queer in that it celebrates a totally free and self-defined sexuality and erotic sensibility."
Between her virtuous quest and masked identity, Narcissister is turning out to be the queer feminist superhero New York always needed.
See Narcissister's photography at the Rockaway! Arts Festival from June 29 to September 1, 2014 at Fort Tilden in Rockaway Beach. See a preview below, and, if it's not obvious, there will be breasts.
PHOTO GALLERY
Narcissisters Topless Protest
BEFORE YOU GO
PHOTO GALLERY
Narcissister