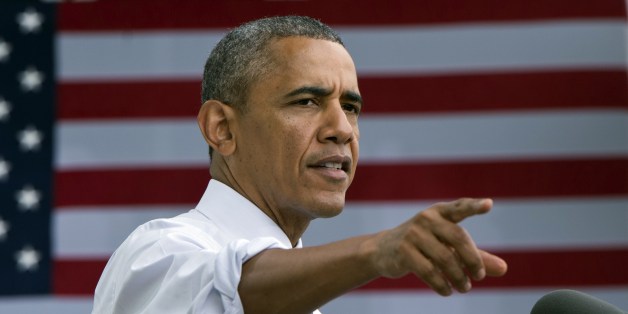 Polls from six different pollsters confirm that President Obama's job approval rating dropped slightly in late June. Economic pessimism among groups in the Democratic coalition may pose a greater challenge to Democratic candidates than the enthusiasm gap. And Rob Ford's numbers are higher than....the approval rating of the U.S. Congress. This is HuffPollster for Friday, June 27, 2014.
OBAMA APPROVAL DROPS - Earlier this week, Gallup reported that the weekly average of President Obama's approval rating had dipped to 41 percent after months of stability in the mid-40s. Other national polls released over the past two weeks show a similar, consistent trend, with Obama's disapproval rising by between 1.4 and 3 points in surveys by six separate polls. All, except for Rasmussen, now put his approval below 43 percent. Gallup's Jeffrey M. Jones sees an explanation in the timing: "The long stretch of stability from mid-March to early June occurred during a period that was hardly uneventful for the president, including controversies over medical care for U.S. military veterans at Veterans Affairs hospitals and a prisoner exchange of five Taliban detainees for U.S. Army Sgt. Bowe Bergdahl. But Iraq may be the issue weighing most heavily on Obama's public support given the timing of the drop in approval." [Gallup, HuffPollster average]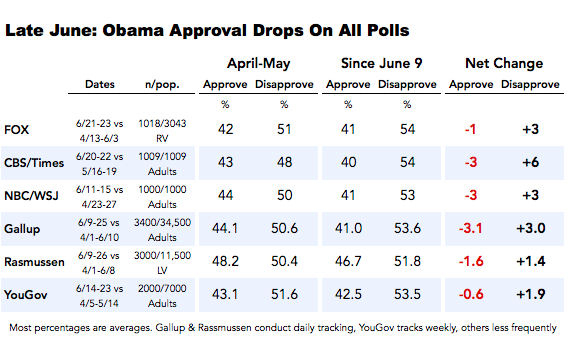 DEMOCRATS' ECONOMIC PESSIMISM COULD POSE MIDTERM CHALLENGE - Amy Walter: "Among the most intractable problems for Democrats this cycle is the drop-off problem. Simply put, Democratic base voters (unmarried women, younger people, and minorities), don't show up to vote in mid-terms. Meanwhile, the GOP base – namely older, white voters – do….More ominous for Democrats, however, is how much more negatively their base feels about the state of the economy than they did at the end of the 2012 campaign. Across the board, voters that make up the Democratic coalition -- women, minorities, young people, and economically downscale voters -- are more pessimistic about the economy than they were in 2012….Despite how ominous these numbers look for Democrats, it's important to remember that: 1) they measure national mood and not the mood in the key battleground states where control of Congress will be determined; 2) Republicans were convinced that the "enthusiasm gap" would help them win in 2012, only to be shocked to discover that the Obama campaign was able to get their voters out on Election Day." [Cook Political]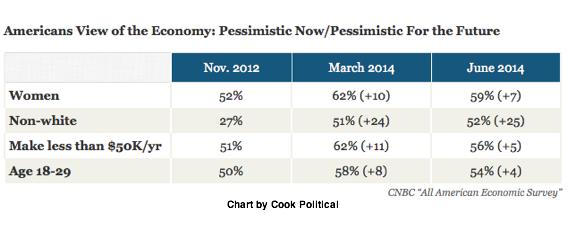 NO, LIBERALS AREN'T LOOKING FOR AN ALTERNATIVE TO CLINTON - Scott Clement: "The prospect that political juggernaut Hillary Clinton could lose a campaign for the 2016 Democratic presidential nomination in a 'David slays Goliath' tale is an irresistible narrative. But data have a way of deflating creative speculation, and a growing mountain of evidence undercuts the notion that liberal Democrats are yearning for an Elizabeth Warren-esque alternative. That mountain got bigger Thursday, with a massive Pew Research Center survey showing the most leftist people in America are huge fans of the former Secretary of State - fully 88 percent of 'Solid Liberals' have a favorable impression of Clinton." [WashPost]
MANY LIBERALS SAY DEMOCRATS RELY TOO MUCH ON GOVERNMENT TO SOLVE PROBLEMS - Philip Bump: "We frequently outline the differences between the parties in terms of their acceptance of the role of government. It's a shorthand: Republicans (like a certain former president) oppose big government; Democrats are comfortable with it….[But] nearly four-out-of-ten strong liberals agrees [that Democrats too often see government as the only way to solve problems.]...[A] quarter of steadfast conservatives are also critical of Republican opposition to government programs." [WashPost]
HUFFPOLLSTER VIA EMAIL! - You can receive this daily update every weekday via email! Just click here, enter your email address, and and click "sign up." That's all there is to it (and you can unsubscribe anytime).
FRIDAY'S 'OUTLIERS' - Links to the best of news at the intersection of polling, politics and political data:
-Rasmussen finds Thad Cochran (R) leading Travis Childers (D) by 12 points. [Rasmussen]
-An internal poll for Mitch McConnell gives him a 7-point lead. [WHAS11]
-History really was on Sen. Thad Cochran's side, Harry Enten writes. [538]
-Scott Clement sees a victory for Reagan in results from the Pew Research Political Typology study. [WashPost]
-Pew Research's Carroll Doherty talks typology with Taegan Goddard. [Political Wire]
-Why the typology report relies on two-way, forced choice questions. [Pew Research]
-Rob Ford's approval rating is back up...to 32 percent. [Forum Research]
BEFORE YOU GO
PHOTO GALLERY
11 Paranoid Obama Conspiracy Theories