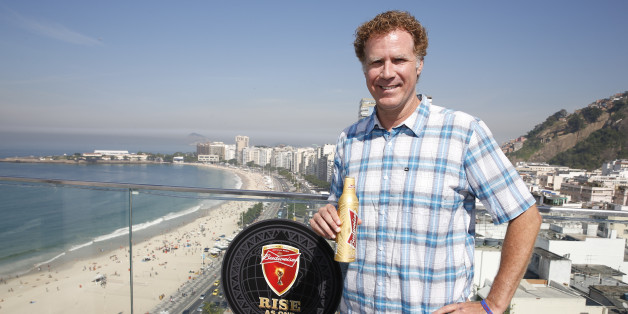 Will Ferrell is currently in Brazil for the 2014 FIFA World Cup, sipping on some ice cold beers at the Budweiser Hotel in Rio de Janeiro.
"I'm not going to lie to you, we've had a few and we've enjoyed them thoroughly," Ferrell told HuffPost Entertainment on June 27.
But Ferrell is less concerned with the party and more focused on the soccer, as he watches the world's best players take each other on in grueling matches.
"The World Cup, at the expense of sounding cliché, really brings everyone together," he told us during an interview over the phone (although we sort of wish we were in Rio, don't you?). "It's unique to be at a game when you're standing next to crowds from Germany and afterwards everyone just shakes hands and says, 'Hey, that was a great game.' It really puts a light on the fact that it's a shame that the world can't have more cooperative moments like this," he said. "Where we just are bonded by our love of sport."
The 46-year-old comedian delivered an inspirational speech to U.S. soccer fans before the match against Germany on June 26, proving he's not only a fan himself, but quite the motivator.
"I think I could lead our team into any situation," he told HuffPost. "I don't know if I would get them to win, but I would definitely get them fired up. But I'd have no technical expertise, just a lot of emotion and a lot of screaming."
Speaking of emotion (and technical expertise, for that matter), Ferrell also opened up about his future star on the Hollywood Walk of Fame, "Anchorman" memories and thoughts on fellow comedians.
Congrats on the Walk of Fame news, that's very exciting!
Yeah! Finally, right? [laughs]
You've been in some amazing movies, including "Anchorman," which was released 10 years ago. Is that hard to believe?
I guess. [laughs] If I look back and think how long I've been doing this, it does surprise me. But when you're in the mode of working, I don't know if that really crosses your mind.
"Anchorman 2" just happened, but will there be an "Anchorman 3"?
That really hasn't come up. You know, It took a lot to make a sequel and we were very happy with it. We felt like making sequels is not the easiest thing to do and I think we survived in terms of making it distinct enough and worth making. So I don't know, I never talked about making a third one.
Where do you pull inspiration from for your work?
I just kind of have a capacity to think of weird and bizarre things and then I'm given the opportunity to execute them. So, I don't really know if there's one source that I draw inspiration from, it's just, I spend a lot of time daydreaming and that's proven valuable for me.
You're a dad of three sons, is that why you've been taking on more animated roles like "Lego Movie" and "Megamind"? Or does being a father lead you to take on serious roles as well?
It is interesting now that I have kids. I'll tell you, they do have opinions as to whether I should take on a project or not. But I still govern myself by the rules of just hearing the choices I'm going to make. It's great to go back and forth between comedic stuff and family movies and then dramatic stuff. I like to kind of have a variety of projects going at the same time.
Who's the funniest actor, currently, in your eyes?
Let's see ... I think that there's just a lot of people who, once again, are doing funny stuff. I'm a big fan of Jonah Hill and Seth Rogen. I think those guys are making really funny, interesting movies. And there's always people coming up, but I don't know if I'm really someone who studies other people's comedies.
You've worked with some of the best including Paul Rudd and Kristen Wiig, and so on (and on). Who are your favorite people to work with?
The "Anchorman" cast, those guys are great. Of course, I loved working with John C. Reilly, he's kind of a brother to me. We're trying to figure out another project to do together. Mark Wahlberg was amazing to work with and I just finished a movie ["Get Hard"] with Kevin Hart, and he's another really funny guy who, at the same time, works really hard and likes to enjoy himself the same way I do. He works hard, but at the same time, doesn't take all of this too seriously, which I think is the key to success in this business.
Which celebrity, aside from your "Step Brothers" co-star [John C. Reilly], would you want to share a bunk bed with?
Ummm ... [long pause and deliberation]. How about Vladimir Putin? A real fun guy, but maybe I can get him to lighten up.
And who do you think would win in a fight, Ron Burgundy or Chazz Reinhold from "Wedding Crashers"?
I don't think either of them would win. It would just kind of end up being a pathetic glob of two men wrestling like gorillas on the ground, probably.
BEFORE YOU GO
PHOTO GALLERY
Celebrity News & Photos