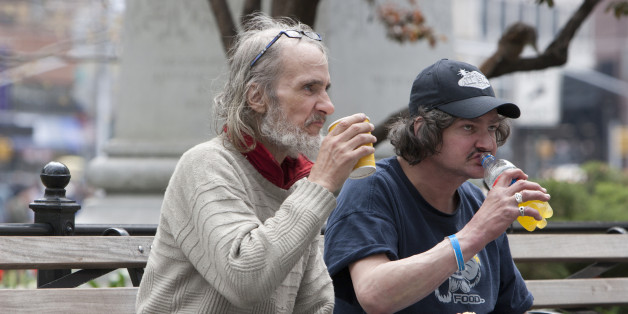 He wishes he could do more. But for now, 12-year-old Robby Elmers will settle for feeding a line of homeless people snaked around a Detroit block every weekend.
Robby may be young, but his eyes have already been opened to the fact that hardship can befall anyone.
Three years ago, he lost his father. He first got a peek into the life of the homeless when he went with his grandmother to drop off clothes at a shelter when he was 8, the Detroit News reported.
Since that defining moment, Robby has been determined to help the homeless in the interim, and to eventually put an end to the issue.
Every Saturday or Sunday he drives with his grandmother to the Tumaini Center, a homeless shelter in Detroit, and sets up a table filled with hot dogs, potato salad and other filling treats for the area's homeless to enjoy.
"These are my friends," Robby told the Detroit News. "It makes me feel good to be able to help."
The pint-size do-gooder funds his mission by spending birthday and Christmas money on supplies. He gets some donations and help from his grandmother.
While Robby may be young, he's giving hope to a population that often feels overlooked.
Michigan has an estimated 100,000 homeless people, 20,000 of whom live in Detroit, according to the Detroit Free Press.
But the city does not have the means to help its unsheltered residents.
According to Deadline Detroit, there are only enough shelter beds for about 1,900 homeless people.

Advocates say there isn't only a lack of resources, there's also a lack of a will among politicians to actually implement any meaningful change.
"There's no hope here for these people," David Allen, of Neighborhood Service Organization, told Deadline Detroit. "They don't even know what it is anymore."
But determined advocates like Robby may be able to instill some long-lost hope among the city's homeless people.
"It is amazing that a child so young would be out here shaking hands, talking to everyone and caring," Shauna Johnson, a Detroit homeless women told the Detroit News. "Robby is right out there in front."
BEFORE YOU GO
PHOTO GALLERY
Haunting Photos Of Homeless Vets