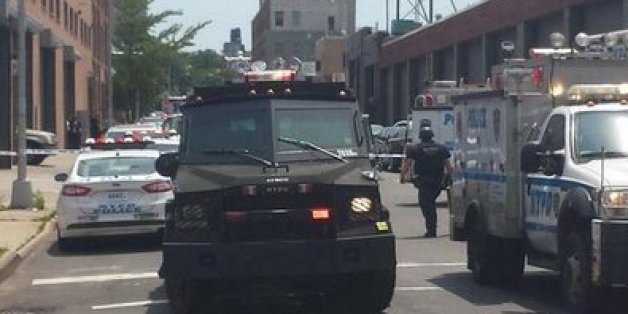 A 54-year-old man attempting to get a job with a Brooklyn iron shop shot up the place when he was turned down for a position, according to police.
The shooting happened around 11 a.m. Monday when the unidentified male opened fire on C&A Iron Works. He injured at least two people before fatally shooting himself, the New York Post reports.
Marcos Chantes witnessed the shooter pull a gun out of a black bag and shoot his friend, Oscar.
"I said, 'Oh my God," he said, according to Gothamist. "And I turned and the guy looked right at me. I ran and started yelling, 'Everyone get out, get out."
Chantes said he believes the man fired his gun at least eight times over 10 minutes.
Iron shop employee Dmitry Tabakin, 28, said the suspect was polite when he applied for a job, but that changed after he was turned down.
"I saw [the suspect] put the gun to the worker's chest and shoot," Tabakin told the New York Daily News.
Both victims were taken to a local hospital and are reportedly in stable condition.
After the suspect opened fire at the shop, he ran inside and barricaded himself within a weapon, but no hostages.
Officers tried to get the man to surrender, but he reacted by first throwing out a crude makeshift device that authorities said was a harmless lead pipe designed to look like a pipe bomb. Then the man shot and killed himself, according to WABC TV.
Although police haven't released the name of the shooter, WABC says he reportedly has six prior arrests, the last coming in 1995 for assault.
Breaking nees. I'm on scene where a gunmen is hold up. SWAT team surrounding buikding. 2 SHOT. Might be hostages pic.twitter.com/nmBDqFfDWS

— gifterphotos (@nycphotog) June 30, 2014
Like Us On Facebook |

Follow Us On Twitter |

Contact The Author
BEFORE YOU GO
PHOTO GALLERY
2013 Mass Shootings