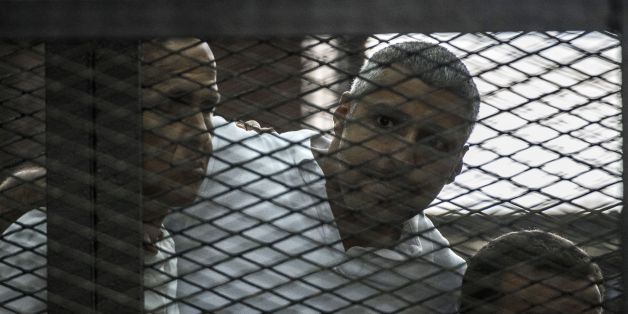 Al Jazeera's Mohamed Fadel Fahmy spoke out about his current situation Monday morning through a stream of tweets written by his bother.
Fahmy is one of three Al Jazeera journalists who was just sentenced to at least seven years in prison on terrorism-related charges. Before being convicted, he had been detained since December on charges of airing false news and working alongside former president Mohamed Morsi's Muslim Brotherhood.
The court's decision stunned the world and continues to spark outrage among world leaders, news organizations and human rights groups. After the ruling was given out, Fahmy reportedly shouted out, "I swear they will pay for this" from the cage in which defendants sat during the trial.
Now Mohamed Fahmy's brother, Sherif Fahmy, has begun tweeting from Mohamed's account to provide a deeper look into his condition.
He began on Monday morning with this tweet:
I have fought every accusation brought against me without a single evidence & now serving 7 yrs !!

— Mohamed Fadel Fahmy (@Repent11) June 30, 2014
He continued to send out more than 20 tweets about his current situation, prison life, his family and the crisis in Egypt. The tweets, which his brother said came from their last prison visit, provide some commentary on what Mohamed Fahmy thinks of the politics behind the trial. The trial has been widely criticized around the world as an attack on press freedom rather than a fair trial for the three men. Fahmy expressed being angry and infuriated, and denounced Egypt's judicial system as "not human."
His brother said that he will continue to send tweets to keep his voice "alive." See some of Fahmy's tweets below:
Egypt was trying Qatar & AJ, not 3 human beings with families literally dreaming of their freedom

— Mohamed Fadel Fahmy (@Repent11) June 30, 2014
It infuriates me that I have become a bargaining chip, between Qatar, Egypt, & the US

— Mohamed Fadel Fahmy (@Repent11) June 30, 2014
It angers me that I have taken the fall for Aljazeera's coverage for past 3 yrs when I was Bureau Chief for only 3 months !

— Mohamed Fadel Fahmy (@Repent11) June 30, 2014
It angers me that Qatar raised a $150 million suit against Egypt while I was hanging on a thread in the cage

— Mohamed Fadel Fahmy (@Repent11) June 30, 2014
I do not believe we are in prison because Sisi wants it this way. He's too smart for that. Its disciples eager to please

— Mohamed Fadel Fahmy (@Repent11) June 30, 2014
Man behind verdict is trying to instill fear into all reporters in Egypt. Don't let him scare you. We live for it!

— Mohamed Fadel Fahmy (@Repent11) June 30, 2014
Journalists who know me, feel me, or identify with me, I had plans to thank you all in person. 7 yrs!

— Mohamed Fadel Fahmy (@Repent11) June 30, 2014
I had a dream that Qatar allowed Aljazeera to broadcast World Cup free-to-air so I could watch it in prison .@beINSPORTS .@FIFAcom

— Mohamed Fadel Fahmy (@Repent11) June 30, 2014
In prison you either become a religious man (a sheikh) or a self educated lawyer - I choose the latter

— Mohamed Fadel Fahmy (@Repent11) June 30, 2014
Not happy my name linked to US talk about cutting aid that my dear Egypt needs badly

— Mohamed Fadel Fahmy (@Repent11) June 30, 2014
Mohamed's voice will never be silenced; it will remain alive through me and justice shall prevail in the months to come. #justice #freedom

— Mohamed Fadel Fahmy (@Repent11) June 30, 2014