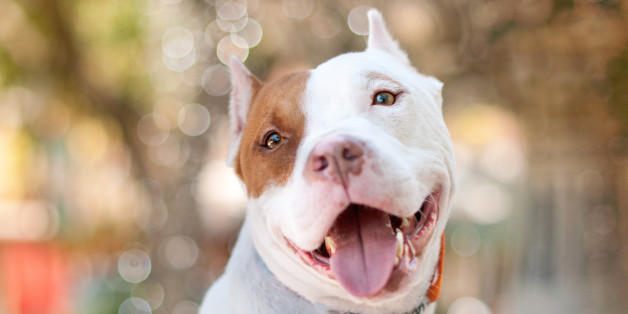 Pit bull advocates will hereby know July 1 as "Dog Breed Independence Day" in South Dakota.
On Tuesday, a law goes into effect that stops localities in that state from regulating dogs by breed. Breed specific legislation -- or BSL, as these sorts of laws are known -- are most often directed at pit bulls and dogs who look like pits, but whose genetic provenance is unknown. The American Bar Association, President Obama and many others say such laws lead to a surfeit of homeless animals and other ills without any increase in public safety.
The National Canine Research Council finds that BSL is on the decline nationwide: Utah's governor signed a BSL ban this past spring that goes into effect on Jan. 1, 2015. Nevada, Connecticut and Rhode Island enacted similar legislation in 2013.
South Dakota's Senate Bill 75 passed the state legislature in early March and was signed by Governor Dennis Daugaard (R) a couple of weeks later.
The law, which is short and sweet, provides that no local government "may enact, maintain, or enforce any ordinance, policy, resolution, or other enactment that is specific as to the breed or perceived breed of a dog. This section does not impair the right of any local government unit to enact, maintain, or enforce any form of regulation that applies to all dogs."
Ledy VanKavage, senior legislative attorney for Best Friends Animal Society -- an animal welfare group which pushed for the legislative effort in South Dakota -- cheered the new law.
"July 1 is a declaration of independence for dogs in South Dakota," said VanKavage in a news release. "This is an enormous victory for dogs and the families who love them."
Best Friends also announced a rally at the state capitol to be held on Tuesday, with South Dakota lawmakers and animal welfare campaigners as well as a famous pit bull named Ray. Ray was rescued from Michael Vick's dog fighting operation in 2007 and now enjoys life as a couch-lounger and pit bull ambassador.
Freedom from BSL does not stretch all the way from sea to shining sea quite yet, but Best Friends representative Jacque Johnson -- who adopted Ray on Valentine's Day this year -- told the Rapid City Journal she thought South Dakota might open the door to other neighboring states adopting more progressive pit bull policies.
"We are kind of hoping that it sets the tone for the rest of the Midwest states," Johnson said. "If you're a responsible owner then you should be able to own any breed of dog that you choose."
BEFORE YOU GO
PHOTO GALLERY
Your Pit Bulls