We sadly did not crack Forbes' list of the top 100 most influential celebrities this year. Our write-in campaign about our undervalued ability to find cat videos apparently did not pass muster. This is THE MORNING EMAIL for Monday, June 30, 2014.
The Scuttlebutt
TOP STORIES
ISIS DECLARES BIRTH OF NEW MUSLIM STATE
"Alarming regional and world powers, the Islamic State in Iraq and the Levant (ISIL) claimed universal authority when it dropped the local element in its name and said its leader Abu Bakr al-Baghdadi, as leader of the Islamic State, was now caliph of the Muslim world - a mediaeval title last widely recognised in the Ottoman sultan deposed 90 years ago after World War One." Here's what such a declaration means. Meanwhile, Russia is issuing an "implicit rebuke" to the U.S. with its latest shipment of planes to Iraq. [Reuters]
FACEBOOK MAY HAVE MANIPULATED YOUR EMOTIONS...ON PURPOSE


"A newly published paper reveals that scientists at Facebook conducted a massive psychological experiment on hundreds of thousands of users by tweaking their feeds and measuring how they felt afterward. In other words, Facebook decided to try to manipulate some people's emotional states -- for science." The outcry has understandably been fast and furious. But don't worry guys, the author of the study said he was "sorry." [HuffPost]
SUPREME COURT SET TO RULE ON HOBBY LOBBY, UNIONS
"The [Supreme Court] meets for a final time Monday to release decisions in its two remaining cases before the justices take off for the summer. The cases involve birth control coverage under President Barack Obama's health law and fees paid to labor unions representing government employees by workers who object to being affiliated with a union." Check out CNN's primer on what the Hobby Lobby case means for Obamacare and the longterm ramifications of the ruling. And here's why union leaders are terrified. [NY Daily News]
STATESIDE: New VA Chief Nominee
Meet the man Obama is set to nominate for Veterans Affairs Secretary. Read the harsh appraisal Obama's aides gave of the current "corrosive culture" within the VA. Obama is expected to ask Congress for billions to tackle the growing border crisis. A United flight carrying 101 people had to make an emergency landing in Kansas after an evacuation chute deployed midflight. A woman set her house on fire trying to kill a spider. The man whose toddler died after being left in a hot car will appear before a judge today; both he and his wife had previously searched what temperature a child would die at in a hot car. At least nine people were injured after a gun battle erupted on New Orleans' famous Bourbon Street.
In cute attack news, here are hiccuping puppies.
INTERNATIONAL INTRIGUE: MERS Outbreak
The MERS outbreak can be blamed on a faulty Saudi Arabian response, The New York Times' latest investigation says. North Korea is set to indict two American tourists for committing "hostile acts against the country." New documents show American embassy workers sided with Iraqi contractor Blackwater over State Department investigators after a Blackwater top manager threatened to kill an investigator. Two building collapses in India have left 27 dead and many still trapped inside. And Boko Haram continues to leave a trail of carnage throughout Nigeria.
In friends for life news, these shelter dogs found each other.
BUY! SELL! BUY! Cybersecurity Scramble
Corporate cybersecurity is on the top of many corporate board's to-do lists after a rash of information breaches. Gas prices over the Fourth of July weekend are going to hurt your wallet. AP announced they're going to start using robots to write some business stories. YouTube's new crowd-funding feature could make you quite wealthy. These up and coming start-ups want to hire you. Blackstone's newest hedge fund is set to bet big. And forget schlepping to the suburbs for that bookcase you're never going to be able to put together without assistance: Ikea could soon be coming to urban areas.
In dads are the best news, check out this one's snake prank.
SCOUTING REPORT: What.A.Stud.

There's a new King James in town, and he has one heckuva left foot. Meet the World Cup players who will be fasting in accordance with Ramadan. A panel of mental health experts in Oscar Pistorious' trial deemed him mentally sane when he killed his girlfriend Reeva Steenkamp. Landon Donovon proved he's a human who has the capacity to be jealous. Here's the latest scuttle on where The Heat's big three are headed next season. And it looks like the Brooklyn Nets are going to need a new coach.
In cat news, this one is in a box.
CULTURE CATCH-UP: Josh Was Our Favorite

Rob Lowe's on board for a "West Wing" reunion under this one condition -- what we would give for one more chance to hear Martin Sheen wax philosophically. "Doctor Who" fans rejoice: here's the first trailer featuring the latest incarnation of the Doctor. We're rather confused about why Beyonce and Jay Z showed Justin Bieber's mug shot at their concert. Check out President Obama and Michelle talking about their first date. Take a look at the trickle-down effect of "Seinfeld." And say goodbye to any hope of beginning of the week productivity: here's what's new on Netflix.
In autocorrects never get old news, here are the latest texting fails.
LIVIN': Sunburn Hurts
Make sure you aren't making these sunscreen mistakes. These nibbles will keep you fuller for longer. All you need is some shuteye to cure a number of skin issues. New worst nightmare: being one of the people who was stuck hundreds of feet in the air in a broken SeaWorld theme park ride for HOURS. What food can you buy for $5 around the world? And awkward engagement photos will make you so very, very glad to be single.
In rubber ducky news, these animals love taking baths.
OTHER PEOPLE'S BUSINESS: Prepare to Feel Old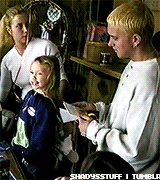 Eminem's daughter Hailie is graduating with honors from high school. Kelly Rowland couldn't look happier in these baby bump swimsuit photos. Shia LeBeouf appears ready to fight with quite a lot of strangers these days. And Miley Cyrus has a new love in her life.
In chosen one news, this dog has quite the halo.
TWITTERATI
@PFTompkins: "I'd rather apologize later than ask permission first." - a person who has never sincerely apologized
@WSJ: An acrobat balanced on a cableway at a national park in China. More Photos of the Day: on.wsj.com/1nV3T22 pic.twitter.com/xQg6OGw4Cz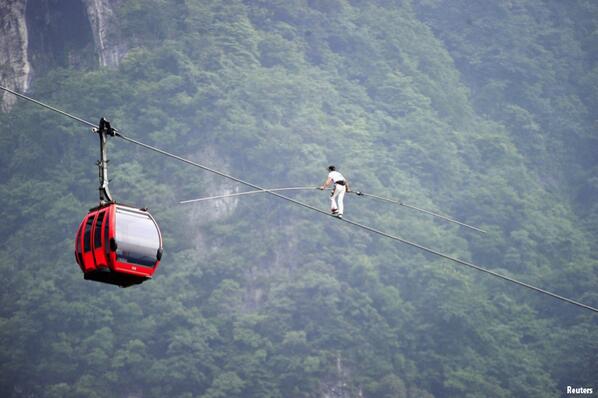 @DamienFahey: If you're selling a Hummer, don't forget to put a sign on it that says, "For Sale by A******".
@realjeffreyross: I wonder if Bono leaves his sunglasses on while he's takin a dump.
@CuteEmergency: puppy wedding

ONE MORE THING
You haven't lived if you haven't tried each state's signature comfort food.
Got something to add? Send tips/quips/quotes/stories/photos/events/scoops to Lauren Weber (lauren.weber@huffingtonpost.com). Follow us on Twitter (@LaurenWeberHP). Does somebody keep forwarding you this newsletter? Get your own copy. It's free! Sign up here.