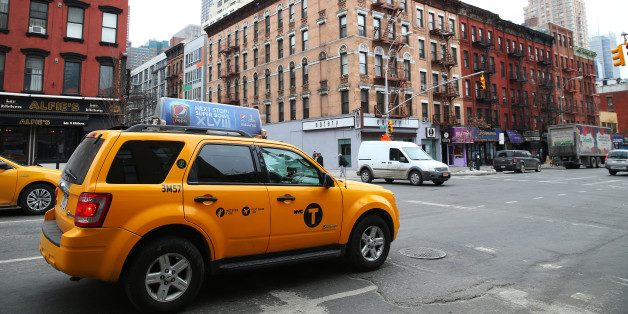 A quick reaction from passersby may have saved a cyclist in Manhattan.
Following an accident near Columbus Circle Tuesday morning, an 83-year-old woman was pinned beneath a New York City taxi. The only thing visible was her shoes. Bystanders worked together to lift the cab off the injured woman, NBC 4 New York reports.
A group of witnesses, including several construction workers at a nearby site, rushed to help the cyclist, who was reportedly stuck by a taxi while she was walking her bike across the intersection at 60th Street and Columbus Avenue.
The cab driver tried to back up the vehicle, but construction workers Joe Delfino and Marcos Loyola told him to stop, according to the New York Post. They then helped hoist the estimated 3,300-pound SUV off the woman.
"All I saw was her sneakers," 60-year-old Loyola told the publication. "I don't know where I got the strength."
The unidentified woman was reportedly transported to Bellevue Hospital and treated for a broken wrist and multiple fractures in her leg.
It's not the first time bystanders have mustered enough strength in the moment to save a pinned victim. Last year, a 22-year-old woman lifted an SUV that weighed at least 4,000 pounds off her father's leg after he became wedged underneath the vehicle. Members of a high school baseball team also worked together to save a teen girl who was trapped beneath her mother's car in the school parking lot.
BEFORE YOU GO
PHOTO GALLERY
Random Acts Of Kindness