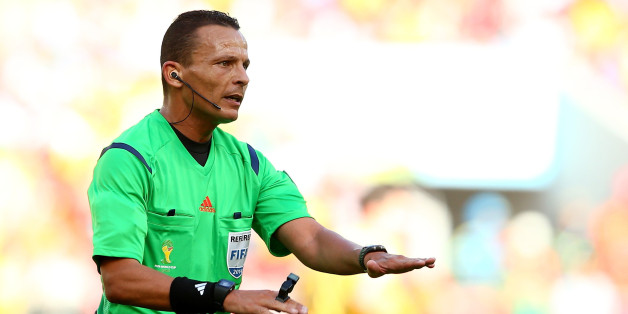 Jurgen Klinsmann doesn't have a good feeling. No, the U.S. Soccer coach doesn't seem worried about his own team's preparation. He doesn't even seem especially worried about contending with a talented Belgium side in the Round of 16 at the 2014 World Cup. It is FIFA's choice of referee Djamel Haimoudi that seems to be bothering him.
"Well we hope it's not a concern. We know he did two games already, and he did them very well. So we hope he continues his refereeing the perfect way he's done so far," Klinsmann said of the appointment during a press conference on Monday. "Is it a good feeling? No, because he's coming from the same group as Belgium and Algeria. He's able to speak French with their players on the field, not with us. It's a country that we beat in the last second in the last World Cup."
Here is a closer look at why Klinsmann doesn't have a good feeling about Haimoudi:
Haimoudi Is From Algeria
The United States defeated Algeria at the 2010 World Cup in dramatic fashion when Landon Donovan scored a goal in the 91st minute of stoppage time. The last-gasp goal sent the U.S. into the Round of 16 in South Africa and sent Algeria out of the competition.
Haimoudi Speaks French Klinsmann expressed concern that Haimoudi will be able to better communicate with Belgium players while his team will face a language barrier. French is an official language of Belgium.
Algeria Played In Group H With Belgium Belgium topped Group H while Algeria advanced to the Round of 16 as the runner-up. Of all the factors mentioned by Klinsmann, his fear here may be the least clear. Perhaps the U.S. coach worries that Haimoudi could have paid greater attention to Group H than other groups and has a greater familiarity with or respect for Belgium.
After laying out his concerns, Klinsmann expressed hope that the official wouldn't be a topic of discussion after the match as well.
"So sometimes I don't understand FIFA," he said. "It's difficult obviously to choose the right referee for the right games and it's always been kind of tricky for FIFA. But it is what it is. We give it the benefit of the doubt, we respect the decision and we're going to be spot on in the game, and hope that everything goes well."