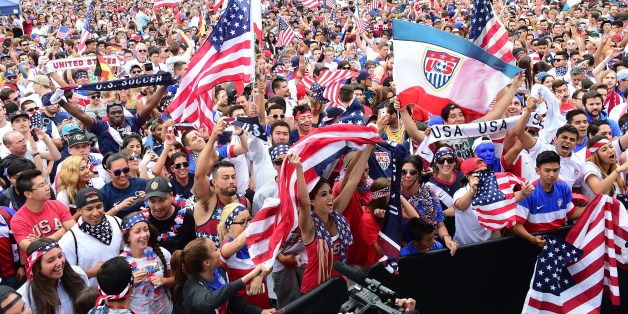 Americans like corporate wellness programs...if they're voluntary. Views of the ACA remain stable, but fewer American attribute their opinions to news media stories. And we have some relevant data for your World Cup watch party productive afternoon workday. This is HuffPollster for Tuesday, July 1, 2014.
WHAT THE WORLD CUP TELLS US ABOUT AMERICAN DEMOGRAPHICS - Kristen Anderson: "The rise of World Cup soccer in America is being driven by two colliding, massive forces that have been in the works for decades: the preferences of the young and of the growing Hispanic population. The same forces that have recently reshaped politics, media, and commerce have fed the swell of support for #USMNT. It wouldn't be the first time that a major national trend, driven by the preferences of a diverse young generation, was dismissed as a fad ('Obamamania,' anyone?). And sure, this isn't the first time efforts have been made to make soccer 'happen' in the United States. But even if the World Cup ends and things seem to revert to the norm, it's the long term trend lines that matter to savvy marketers, wise investors, and smart politicos." [Daily Beast]
Soccer fans resemble Obama's coalition: "[T]he same demographic changes that have helped Obama win the White House without strong white working class support are helping soccer gain acceptance without it too. Soccer's rise is part of what John Judis and Ruy Teixeira call 'George McGovern's revenge.' In 1972, McGovern won minorities, well-educated white liberals, and the young, but still lost 49 states. Since then, however, the minority share of the American electorate has risen from 11 percent to 28 percent. Whites without college degrees, by contrast, composed only 36 percent of American voters in 2012, down from 54 percent in 1988." [The Atlantic]
Republicans and Democrats are equally likely to say they're watching the World Cup [Pew Research]
But liberals are bigger fans of soccer - William Jordan: "Conservative commentator Ann Coulter had US soccer fans – and liberals – up in arms this week over a column in which she claims that growing interest in soccer 'can only be a sign of the nation's moral decay'. A recent poll by YouGov confirms that, regardless of any claims of moral decay, the sport does seem to be more popular with self-identified liberals than conservatives. 24% of liberals say they follow soccer when the World Cup is not being played, compared to just 14% of conservatives. Liberals are also more likely to be following this world cup by a narrower margin of 8 points (35-27%)." [YouGov]
Big Data knows you're watching the World Cup when you're supposed to be working - David Yanofsky: "Using conference calls as a proxy for productivity, the impact of a World Cup match on US business is clear. Call volume (as in the aggregate duration of them, not their loudness) on US-based conference calls provided by InterCall was down 7% during last week's US-Germany match, compared to the seven days before, according to data provided by the company. In the last moments of the game, call volume was 11% less than the previous week—a sizable drop in calls, considering InterCall averaged 1.2 million hours of conference calls a day in 2013." [Quartz]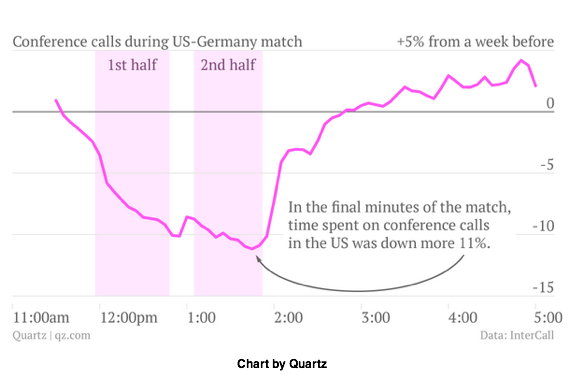 ...but if you care, you're in the minority - Mark Murray: "Here's a yellow card warning for all of the anticipation of the United States' World Cup match against Belgium this afternoon: Most Americans aren't that excited, even if many of them are rooting on the home country. Six-in-10 Americans – 61 percent – say they either have very little interest or no interest at all in the World Cup, according to a new NBC News/Wall Street Journal/Annenberg poll...Eighty-six percent say they're backing the United States, 8 percent are rooting for another country and 6 percent don't care." [NBC]
KAISER TRACKING: PUBLIC OK WITH CORPORATE WELLNESS PROGRAMS, BUT... - Kaiser Family Foundation: "As many employers begin to expand their wellness program offerings under new guidelines set forth by the Affordable Care Act (ACA), the latest Kaiser Health Tracking Poll finds that while the public is amenable to the idea of wellness programs in general, they do not think it's appropriate for employers to charge workers higher health insurance premiums if they don't participate in these programs. Further, an even larger share of the public is opposed to the idea of employers tying workers' health insurance premiums to their ability to meet certain health goals." [KFF]
ACA ratings stable... - Kaiser's tracking continues to show the ACA received net negative ratings, with more Americans expressing a an unfavorable opinion of the health reform law (45 percent) than favorable (39 percent). The ratings had been worse, briefly, in the three months following the troubled launch of the healthcare.gov website.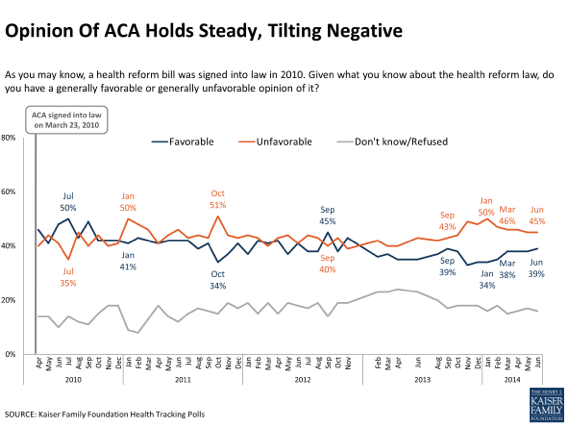 ...but fewer attribute impressions to media reports - Kaiser: "A plurality of the public (37 percent) says their impression of the law is based mainly on what they've seen and heard on television, radio, and newspapers, though this share has declined somewhat from earlier tracking polls in February 2014 and February 2013, when more than four in ten said their impression was based mostly on the media. There has also been a corresponding increase in the share who say their impression is based mainly on their own experience (26 percent this month) or what they've learned from friends and family (22 percent). For the first time in Kaiser tracking, the combined share basing their impression on their own experience or that of family and friends (48 percent) is larger than the share who report basing their view mostly on the media (37 percent)." [KFF]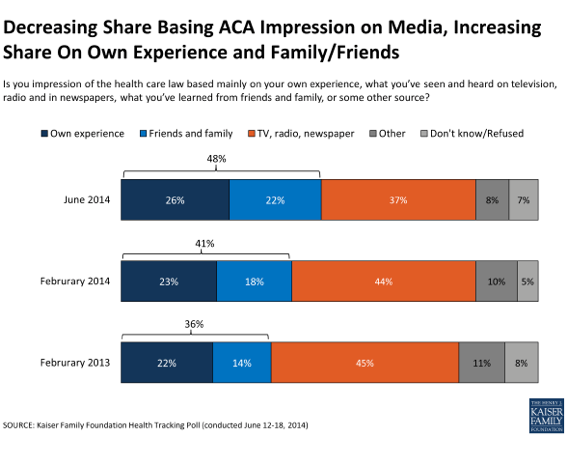 APPROVAL OF CONGRESS OVERALL LINKED TO APPROVAL OF INDIVIDUAL REPRESENTATIVES - Harry Enten: "[W]hat exactly is the relationship between how someone views Congress overall and how she views her representative? The relationship turns out to be quite strong. I looked at every election for which I could find a national survey taken in the final two months of the campaign that asked whether people approved of their representative and whether they approved of Congress overall. Since 1990, every midterm election has had such a poll. As expected, approval of individual representatives is higher than of Congress as a whole. But the two almost always move in tandem. The correlation, on a scale of -1 to 1, is 0.93. When one approval rating drops in half, the other has a good chance of dropping by half as well….The key is to recognize the scale of these questions. How Americans feel about Congress as a body is directly linked to how they feel about their own representatives. This year, all of these measures are at historic lows and below 50 percent. But that doesn't mean most of Congress is going to turned out; in fact, a vast majority of members of Congress are going to get re-elected." [538]
HUFFPOLLSTER VIA EMAIL! - You can receive this daily update every weekday via email! Just click here, enter your email address, and and click "sign up." That's all there is to it (and you can unsubscribe anytime).
TUESDAY'S 'OUTLIERS' - Links to the best of news at the intersection of polling, politics and political data:
-Veterans report being less stressed out than civilians. [Gallup]
-A Yale study finds support for climate-friendly candidates. [Yale]
-Eric Ostermeier rounds up rankings of the most likely Senate seats to flip. [Smart Politics]