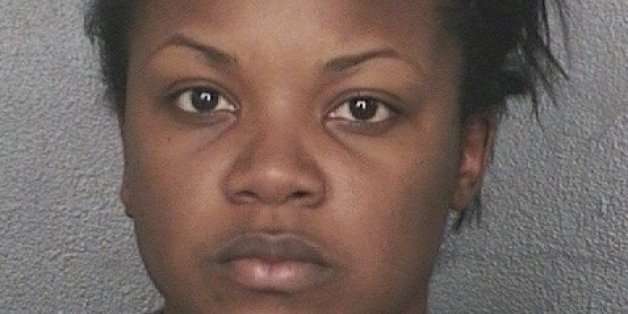 A woman driving in South Florida possibly saved a 3-month-old baby's life when she abruptly stopped her car after seeing the infant lying on the ground near a canal.
The baby's mother stood in soaking wet clothes near the child and told the woman: "Call my husband. I just killed my baby," according to a police affidavit.
The mother, Inakesha Armour, had allegedly thrown her son into a canal in Miramar and left him submerged in the water for several minutes, the affidavit says.
Armour had been depressed and unstable for months, according to the document, and made no attempt to aid her baby as frantic witnesses tried to help. (READ THE FULL AFFIDAVIT BELOW)

Maureen Brown, the first driver to stop, called 911 and attempted to perform CPR on the baby. The child remained in critical condition at Joe DiMaggio Children's Hospital on Wednesday, the Sun-Sentinel reported.
Armour grabbed a cellphone from Brian Jean, another motorist who'd stopped. Jean told police she placed a call and he overheard Armour say: "I did it again, you need to get over here," according to the affidavit. It was later determined that she was speaking to her husband.
The mom made no effort to help Brown, who was performing CPR, according to witness statements in the affidavit.
Armour's husband, Conlan Armour, arrived and told police that his wife had recently tried harming the baby.
He told police that more than a month ago his wife had given the baby adult cough medicine. He said he learned about it when he returned to their home to see Armour arguing with her mother, who was crying and asking why she wanted to hurt the infant, according to the affidavit.
The officer's sworn statement says that Armour later admitted to throwing her son in the canal and leaving him underwater until his "face was turning blue."
The affidavit says Armour told police she was diagnosed with postpartum depression and that "she has thought about doing harm to the victim on a daily basis." She also expressed suicidal impulses, police said.
She also admitted to drugging the baby with cough medicine and trying to smother him with a pillow in her bedroom before her mother intervened, according to the police record. The baby was treated at a hospital in that incident too.
Authorities charged her with two counts of attempted premeditated murder, according to records from the Broward County Sheriff's office.
Attempts to contact Armour were unsuccessful and it's unclear if she has an attorney.
Like Us On Facebook |

Follow Us On Twitter |

Contact The Author