Every day, amazing and unbelievable events take place across the United States. Sometimes, they fill us with pride and make us excited to celebrate the Fourth of July. But just as often, we're left shaking our heads, reminded that the land of the free and the home of the brave can be as embarrassing as it is great.
Why are these two emotions so frequently at odds? How can we have open-carry rallies, where people bring assault-style weapons into fast-food restaurants one day, and an open-carry guitar rally, where people just rock out in public the next? There's no doubt a complex answer. But there's also a simple one: Because America, dammit!
Here's a list of unbelievably "American" events that have taken place since last July 4. They represent this nation, in all of its flawed perfection.
1. A man called his neighbor to complain that her soccer viewing was getting in the way of his NASCAR.
In Amherst, Massachusetts, a woman called the police to report that her neighbor had verbally abused her for being too excited about the World Cup. He also apparently accused her of taking jobs from Americans. This line from the MassLive report is almost too good to be true:
He called her a name and said he wanted to watch the National Association for Stock Car Auto Racing and listen to Lynyrd Skynyrd, but her celebration for the World Cup was disturbing him, according to the police report.
2. Coke released an ad celebrating American diversity, which of course led Americans to complain that it was un-American.
Coca-Cola's Super Bowl ad was a tribute to U.S. diversity, including multicultural actors, verses of "America the Beautiful" in non-English languages, even a gay couple.
You better believe those things pissed off some red-blooded Americans. Some complained that the people in the ad should "learn English," while others were upset to see a couple of gay dudes looking happy. But the last laugh was on them. As HuffPost noted, Katharine Lee Bates, the woman who wrote "America the Beautiful," was thought by many to be gay herself.
3. This badass WWII vet recalled slamming some Johnnie Walker with Patton after getting a Purple Heart.
Last month, World War II veteran Jack Schlegel recounted taking a shot of scotch with U.S. Gen. George S. Patton after being awarded a Purple Heart for his service, which included surviving capture by the Germans four times. Just a few weeks after his return to Normandy, where he was again honored on the 70th anniversary of D-Day, Schlegel died. Remember this great American by watching his interview.
4. A dude ordered every single McDonald's sandwich to create the McEverything.
In September, a Wisconsin man threw down more than $140 at a Mickey D's to get every sandwich on the menu -- including the breakfast ones. He then stacked them up to create this delectable monstrosity. He didn't even try to eat it all, and claimed he'd have leftovers for a week. Nothing like week-old Quarter Pounders.
5. A Florida drug court judge showed up for work while intoxicated and tried to tell people that drugs are bad.
Broward County Judge Gisele Pollack may not have been the best person to oversee offenders with substance abuse problems. Late last year, she had a meltdown in court, and following her incoherent appearance, checked herself into a rehab program. Pollack's woes mounted later. It took a further on-the-job offense and DUI charges before she was removed from the bench without pay.
In Broward County alone, three judges have been arrested for DUI over the past six months. So much for the moral superiority of American judges.
6. This guy became a feature at U.S. World Cup soccer games in Brazil.
TEDDY GOALSEVELT RT @SBNation: TEDDY ROOSEVELT THINKS THAT WAS A GOOD GOAL pic.twitter.com/ziEifh2QbP

— Brian Floyd (@BrianMFloyd) June 22, 2014
Dubbed Teddy Goalsevelt, this spitting image of the 26th U.S. president first made waves when he was captured by cameras celebrating in the stands. He later became a hit, getting invites to official press events and becoming a de facto mascot for the American team. His real name is Mike D'Amico and there's something distinctly American about his rise to temporary stardom, even if it didn't end with a U.S. World Cup trophy.
7. Cadillac crammed everything people hate about America into one douchetastic ad.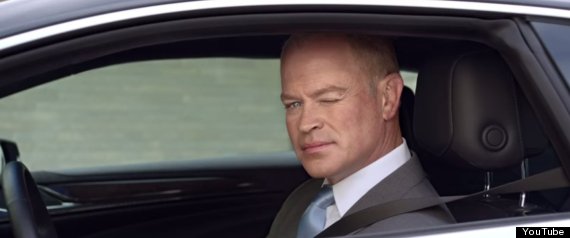 If you haven't watched this ad yet, don't -- unless you want to have a sad. It effectively encourages you to work yourself into the ground, trading family time and your mental well-being for money, so you can buy a $75,000 car and other material items that you will barely have time to enjoy. Isn't that what the American dream is all about?
8. An 84-year-old fought off an armed robber trying to steal his car.
When a robber showed up at his door in North Carolina, 84-year-old Neil Meisch and his wife, Bonnie, weren't about to give the man what he wanted. The suspect flashed a gun in Bonnie's face and demanded her car keys.
"I said like hell you're going to get my keys. It'll never happen. And he said yes it will and he put his gun further up to my face," Bonnie Meisch said. Her husband then tackled the robber and hit him in the face in their front yard. Police arrested him.
Stupid criminals mixed with geriatric stubbornness and resolve. You better believe that's American.
9. A Republican candidate couldn't win over Latino voters with his politics, so he just changed his name to Cesar Chavez.
After Republican congressional candidate Scott Fistler failed to win two elections in a heavily Hispanic district in Arizona, he knew he'd need a new tactic in his next campaign. So, in preparation for his 7th Congressional District race, Fistler changed his name to Cesar Chavez, like the famed labor leader and Latino icon. He also tried to become a Democrat. Fistler -- or Chavez -- was later thrown off the ballot due to invalid petition signatures.
10. A plastic surgeon sculpted his perfect woman, then married her.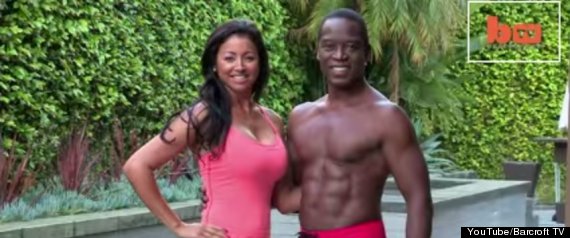 Some true American romance here: When a patient entered Los Angeles surgeon David Matlock's office, the renowned doctor convinced her to get the "Wonder Woman Makeover," including liposuction of the chin, arms and thighs. Then he took her on a date, where he wasted no time proposing marriage. Matlock has since done a number of other procedures on his wife. But don't worry. He's gone under the knife himself a number of times, helping to ensure that he, too, keeps the perfect body.
11. This hands-free chokeslam happened.
We don't know what else to say. Professional wrestling. Magical powers. 'Murica.
12. Cpl. William "Kyle" Carpenter was awarded a Medal of Honor after taking a grenade blast for a fellow Marine.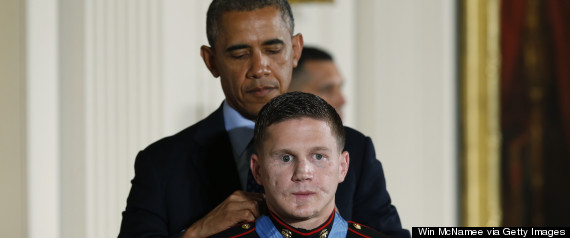 If you think there's gonna be some snark here, there's not. This guy just kicks ass.
While he was guarding a base in remote Afghanistan in 2010, Carpenter's position came under attack by enemy forces. When a grenade came into the outpost, Carpenter used his body to shield his partner from the blast. He suffered extensive wounds from head to toe, and during ensuing medical procedures, flatlined three times, only to be revived. For being a real American hero, Carpenter received the nation's highest military honor.
Another service member, Army Staff Sgt. Ty Carter, received a Medal of Honor last year for his valiance during a firefight in Afghanistan. President Barack Obama also helped underscore the nation's best ideals by retroactively awarding the Medal of Honor to 24 ethnic or minority U.S. soldiers who were deemed to have been bypassed earlier because of prejudice.
13. A man tried to rob a gun store with baseball bat -- and failed very predictably.
There aren't many things more American than baseball and firearms, but things didn't go well for one Portland, Oregon, man who tried to mix the two. When a man entered a gun shop and laid lumber to a display case, the store owner pulled out his own firearm, pointed it at the man and detained him for police.
14. This minor league baseball team adopted a bacon mascot.
Phillies Triple-A team, @IronPigs, will wear bacon caps this season. Yes, they're for sale: http://t.co/14PnXkygFj pic.twitter.com/2VRn3uvHIF

— Mike Oz (@mikeoz) February 24, 2014
In February, the Lehigh Valley IronPigs in Pennsylvania revealed new uniforms that mixed two of America's favorite themes -- bacon and baseball. Sports fan or not, these threads are the USA at its best.
While we're on the topic of bacon, a bacon fan club held a competition that promised the winner a bacon selfie -- a life-sized bust of the person's face made entirely out of bacon. Bacon, bacon, bacon, bacon. America.
15. This guy assaulted a fellow churchgoer after a dispute over pew seating.
A verbal dispute between two Mormon church attendees turned physical last year after a visitor tried to reserve three rows of pews, including a seat that a regular member usually sat in. When the regular church member refused a request to leave, the two got into a confrontation, which continued outside the church. The church member reportedly punched the visitor in the face and later struck him with his vehicle. #America.
16. When high schoolers trashed this ex-NLFer's house, he somehow ended up being threatened with a bunch of lawsuits.
Brian Holloway, a former NFL football star, was upset when he found that his New York home had been ravaged by 300 partying teenagers. But after discovering the kids were dumb enough to have documented the vandalism on social media, he called them out instead of seeking legal action, encouraging them to help clean up. When the parents caught wind of Holloway's response to their kids' crimes, they did what any loving suburban American mom or dad would do and made their kids clean up the mess threatened to sue him. Ain't that America?
17. A mother decided it would be smart to let her kid dress up as a Klansman for Halloween -- an idea that even the KKK thought stupid.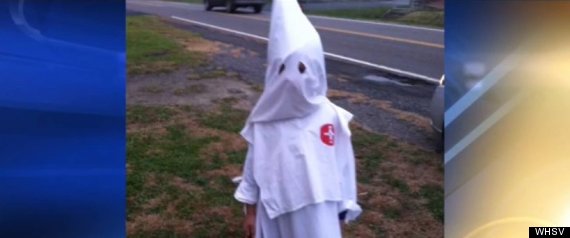 When a 7-year-old showed up to school in full KKK garb, people were understandably pissed. But the kid's mother couldn't understand the big deal. She claimed wearing the robes was a Halloween tradition that others in her family had observed. And while she appeared to know that it would bring her son negative attention, she didn't stop him from wearing the costume.
The move even upset the KKK. In a statement, the imperial wizard of the United Klans of America called the robes a "sacred symbol" that shouldn't be joked with, and went on to question the mother's judgment.
18. A proponent of arming schoolteachers accidentally shot one during a drill.
Late last summer, it was reported that Arkansas state Sen. Jeremy Hutchinson (R), a supporter of giving teachers guns in order to make schools safer in the wake of the Sandy Hook elementary school massacre, mistakenly shot a teacher with a rubber bullet during an "active shooter" drill. The all-American irony...
19. KFC brought back a sandwich made completely out of fried chicken, bacon and cheese, and Taco Bell got in on the breakfast game.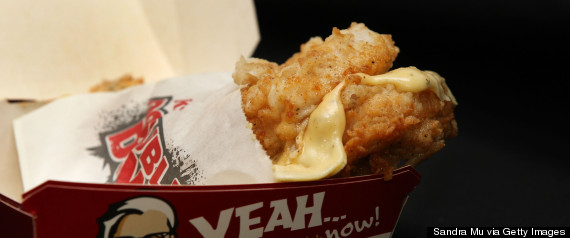 Just in time for 4/20, KFC announced it would again offer the Double Down, promising to clog the nation's arteries by serving an item that replaced bread with fried chicken, and whatever normally goes inside a sandwich with bacon and cheese. It later retired the "sandwich" again.
Then, Taco Bell revealed its highly anticipated breakfast menu. Among the items, a waffle taco, or "breakfast sandwich of sausage and eggs wedged into the crevice of a folded waffle, then topped off with maple syrup." Pure American goodness.
20. An American state decided that guns should be allowed pretty much everywhere.
Earlier this year, Georgia passed a law allowing people with concealed carry firearms permits to bring guns into most bars, churches, school zones, government buildings and parts of airports. What could possibly go wrong? Guess we'll find out -- the law just went into effect.
21. A biker got buried in a see-through box casket, atop his Harley-Davidson motorcycle.
Billy Standley of Ohio loved his 1967 Electra Glide cruiser, and his dying wish was to ride it for eternity, or something. So, when he died at age 82 this year, his family made arrangements for an extra-large cemetery plot to accommodate a massive plexiglass casket that could hold both Standley and his Harley. As the Associated Press reported, "Five embalmers worked to prepare his body with a metal back brace and straps to ensure he'll never lose his seat."
God bless America.
BEFORE YOU GO
PHOTO GALLERY
Americana Fashion Done Right