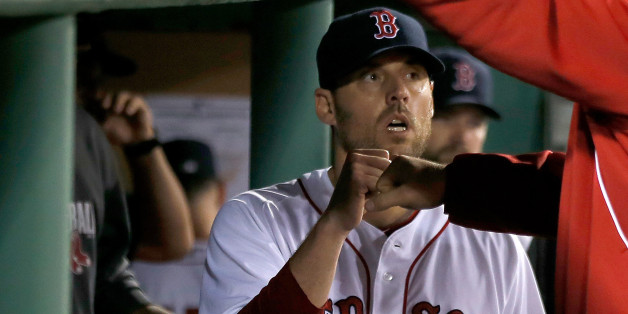 Baltimore Orioles manager Buck Showalter thinks Boston Red Sox pitcher John Lackey might want to think twice before complaining about baseball players using performance-enhancing drugs. Following a game in which Baltimore's Nelson Cruz went 5-for-5, including a homer and a double off Lackey, the Red Sox starter all but brought up the O's slugger's past suspension for PEDs.
"I'm not going to comment on him," Lackey said after Boston's 7-4 defeat on Saturday, via Eduardo A. Encina of The Baltimore Sun. As a member of the Texas Rangers in 2013, Cruz was suspended 50 games for violating the MLB's Joint Drug Prevention and Treatment Program in relation to the Biogenesis scandal. "I've got nothing to say about him. There are some things I'd like to say, but I'm not going to. You guys forget pretty conveniently about stuff."
Appearing on ESPN Radio's "Mike Lupica Show" on Sunday, Showalter shrugged off Lackey's comments and said the righty "might want to be careful" going down that road.
"I think everybody needs to make sure that their own backyard is clean," Showalter said, perhaps referring to Boston slugger David Ortiz who reportedly tested positive for PEDs in 2003. "There are so many insinuations, quite frankly, about people in every club. You usually don't hear those comments after a shutout or something. I mean the guy is doing really well ... It's one of those things you just be quiet about and it reflects poorly on the person who said it."
Listen to the full segment here.
Other Red Sox players haven't shied away from voicing their strong feelings against PED-users since the Biogenesis suspensions last season. But when asked back in April about the possibility of having a teammate who has used PEDs before, Boston catcher David Ross understood the inconsistency of his feelings.
"As human beings, we have a funny way of looking at it," Ross told Ken Rosenthal of Fox Sports. "If it happens to our family, we'll console 'em. If it happens to an outsider's family, we'll condemn him."