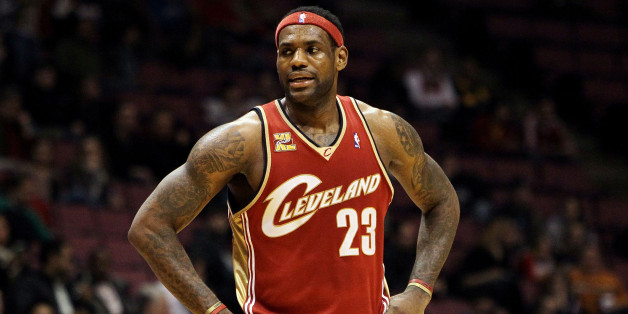 Remember that scathing letter Cleveland Cavs owner Dan Gilbert wrote to his fanbase after LeBron James announced his decision to take his talents to South Beach? Remember the comic sans font, words like "cowardly betrayal," and the personal guarantee that the Cavs would win an NBA title before the Miami Heat? It took nearly four years, but the LeBron-trashing letter penned by Gilbert was finally taken down from the team's official website.
But that doesn't mean it has completely disappeared. You can still read it here here, just without the comic sans. Who knows why it had been on the team's website for so long? But the timing of taking it down seems to make sense.
A day before the letter was pulled down, LeBron Watch in Cleveland went to another level. All it took was a private plane owned by Gilbert, but without Gilbert on board, flying down to Florida for homecoming rumors to start swirling. ESPN's Chris Broussard tweeted later on Sunday night that Cleveland is his "frontrunner" to sign James. On Monday morning, Adrian Wojnarowski of Yahoo! Sports wrote that LeBron's agent "has been funneling belief into the organization that the Cavaliers are in strong position to lure James from the Miami Heat." Then ESPN's Brian Windhorst and Marc Stein reported that LeBron is "increasingly considering the Cavaliers as an option."
Maybe the letter will end up back on the team website if the Cavs don't land LeBron.
UPDATE: Cavaliers director of communications Tad Carper explained to SB Nation why the letter was taken down, saying the organization thought it had already been deleted until the page started getting more traffic.
"The letter was removed years ago from the Cavs.com website, but over the last week, it was discovered that it still existed from this external link to a stagnant archived page. It was on the content management system platform that was used back in 2010," Carper said.
(H/T to Barry Petchesky of Deadspin)