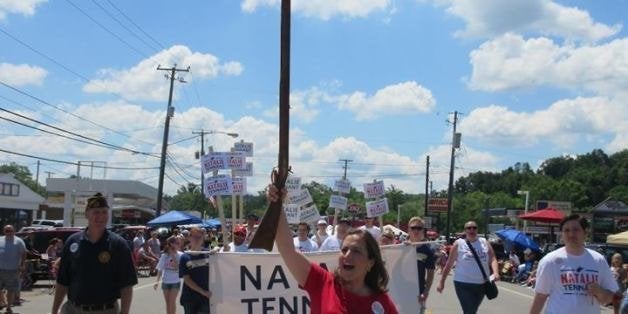 West Virginia Secretary of State and U.S. Senate candidate Natalie Tennant (D) showed off her muzzleloader during a march with her campaign in the Ripley, W.Va. Independence Day parade.
Tennant tweeted a few photos of her with the gigantic rifle, which she often carries with her on the campaign trail:
Tennant, who will campaign with progressive Sen. Elizabeth Warren (D-Mass.) on July 14, has been reluctant to lend any support to Senate legislation expanding background checks on gun purchases and maintains that any changes to gun laws should be made at the state level.
She has also tried to characterize her opponent, Rep. Shelley Moore Capito (R-W.Va.), as not being strong enough on Second Amendment rights.
The photos come after a Las Vegas shooting spree in June and one near the University of California Santa Barbara campus in May. The city of Chicago also witnessed a very bloody July 4 weekend, with reports that over 60 individuals were shot.
On Monday, the gun control group founded by former New York City Mayor Michael Bloomberg (I) announced that it would be surveying all federal candidates on gun safety issues as it considers which individuals to endorse or go after in the midterm elections.
HuffPost Pollster, which tracks publicly available opinion polls, shows Capito leading Tennant ahead of the November general election:
BEFORE YOU GO
PHOTO GALLERY
States With The Most Gun Violence: 24/7 Wall St.