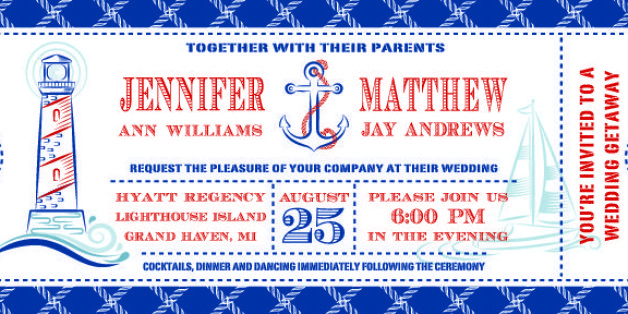 The rules of wedding etiquette are constantly changing, making it difficult for modern brides, grooms and guests to find up-to-date and correct information. That's why we launched #MannersMondays, a weekly series in which we ask our followers on Twitter and Facebook to submit their most burning etiquette-related questions. Then, with the help of our team of etiquette experts, we get you the right answers to your biggest Big Day dilemmas. Check out this week's question below!
@HuffPostWedding @AnnaPost should the invite wording include "together with their families," if parents pay for the wedding? #MannersMondays

— Kelsey O'Halloran (@kelsohalloran) April 7, 2014
Anna Post -- great-great-granddaughter of etiquette guru Emily Post and author of Emily Post's Wedding Etiquette -- is here to help us answer this week's question. Find out what she had to say below:
Yes, the "together with their families" wording is one indication that some combination of the couple's parents is hosting (read: paying for) the wedding. The wording reads, "Together with their families/Ms. Sara Jane Hollings/and/Mr. Jeffrey Morse Smith/request the pleasure of your company, etc…" Traditional wording that lists the parents' names also accomplishes this, and is a more direct statement of who is hosting. It's also important to note that if the names are listed, they go in this order, regardless of how much each party is paying: bride's parents (mother first, if divorced), followed by groom's parents (also mother first, if divorced).

Keep in mind that invitation wording is very flexible today and allows for lots of variations. Parents who haven't given money toward the wedding might still be listed on the invitation as a courtesy, and sometimes the groom's parents are listed not as hosts, but simply noted as his parents: "…and/Mr. Jeffrey Morse Smith/son of/Mr. and Mrs. Thomas Kolbe Morse, etc…"

"Together with their families" is also a good phrase to use if either the bride or groom (or both) has complicated relationships with their parents. For example, if the inclusion of one or some parent(s) but not the other(s) on the invitation would cause hurt feelings or become the focus of attention for negative reasons, then the inclusive and non-specific "together with their families" is the best way to go.

It's also a great option if the couple has many sets of parents—even ones on good terms—the listing of all of whom might cause space issues on the invitation. Lastly, "together with their families" is also nice for older, more independent couples.
You can submit your wedding etiquette questions via Facebook or tweet them to us @HuffPostWedding with the hashtag #MannersMondays.
BEFORE YOU GO
PHOTO GALLERY
Wedding Invites