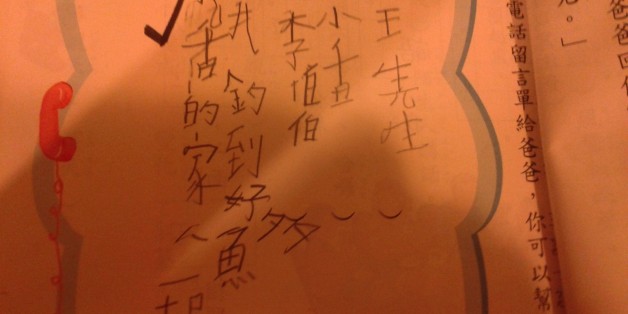 Here on HuffPost Parents, our Cute Kid Notes series features hilarious, adorable, and generally brilliant handwritten notes from children.
One Reddit user had a similar idea, but on a global level, and found notes that kids have written from all over the world. Argenblargen posted the question, "If your language is written in something other than the English/Latin alphabet (e.g. Hebrew, Chinese, Russian), can you show us what a child's early-but-legible scrawl looks like in your language?"
People responded with images of children's writing in Greek, Russian, Hindi, Hebrew, and more. Check out examples from young developing writers below:

A little girl's letter to Santa in Russian:
"Hello Santa Claus,
My name is Ksusha. I am 5 years old. I am brave, love and watch the cartoon show 'Mystery of The Third Planet.' Please send me a Lalaloopsy doll, [and] a cotton candy machine.
I wish you health, happiness and strength.
Ksusha, Fedya, Momm, Dad. "

On a test in Korea -- Prompt: "Write something that would console the victims of a flood." Child's answer: "Victims, it's difficult but there is hope."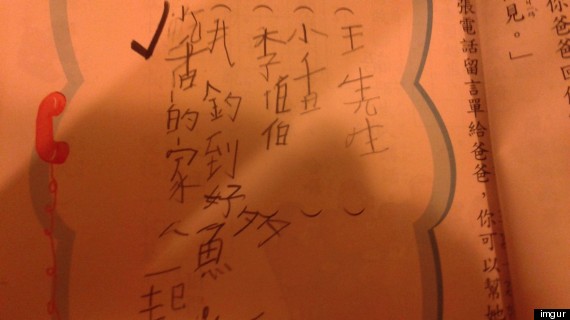 A child writes about fishing with Uncle Lee in Mandarin.

A child in Belarus writes to his grandma: "Galinka, I really love you, I am really waiting for you to come here. That means that me and you will travel together, do homework together, take walks together, play together. Or I can come to you. Today I had a soccer game, bad news is we lost but we lost and we will win next time."
BEFORE YOU GO
PHOTO GALLERY
Cute Kid Notes