What do Arizona, Michigan, and Georgia have in common? A grim situation for working parents.
Following up on its 2005 and 2012 reports, The National Partnership for Women & Families has released the third edition of "Expecting Better," a state-by-state analysis of all the laws (or lack thereof) that support working moms and dads during pregnancy and after birth.
Only three laws regulate workplace rights for parents: The Pregnancy Discrimination Act of 1978, the Family and Medical Leave Act of 1993, and a provision of the 2010 health care reform that protects mothers who want to keep breastfeeding after returning to work. These laws represent major milestones for working moms and dads, but as the report notes, their scope is extremely limited because many parents don't qualify for the rights guaranteed by these policies.
"New mothers and fathers should not have to experience financial hardship at what should be one of the happiest times of their lives," wrote National Partnership president Debra L. Ness in a recent Huffington Post blog. "And a growing body of evidence shows that ensuring new parents and all workers have access to family friendly policies like paid sick days and paid family and medical leave has widespread benefits for the health and economic security of families and the strength of businesses and the economy."
Looking at state legislation that covers topics like paid family and medical leave, pregnancy accommodations, flexible and workplace rights for working mothers, the "Expecting Better" report assigns each state (as well as the District of Columbia) a score based on how much it improves upon the limited federal laws. In the latest edition, no "A"s were awarded, though California received an "A-." 11 states fell into the "B" range, and eight received "C"-level grades. There were 14 in the "D" range, and lastly, a whopping 17 states received a grade of "F." Those states are as follows: Alabama, Arizona, Delaware, Georgia, Idaho, Kansas, Michigan, Mississippi, Missouri, Nebraska, Nevada, North Dakota, Oklahoma, South Carolina, South Dakota, Utah, and Wyoming.
For a look at the full breakdown, here's a color-coded map that shows the grade each state received: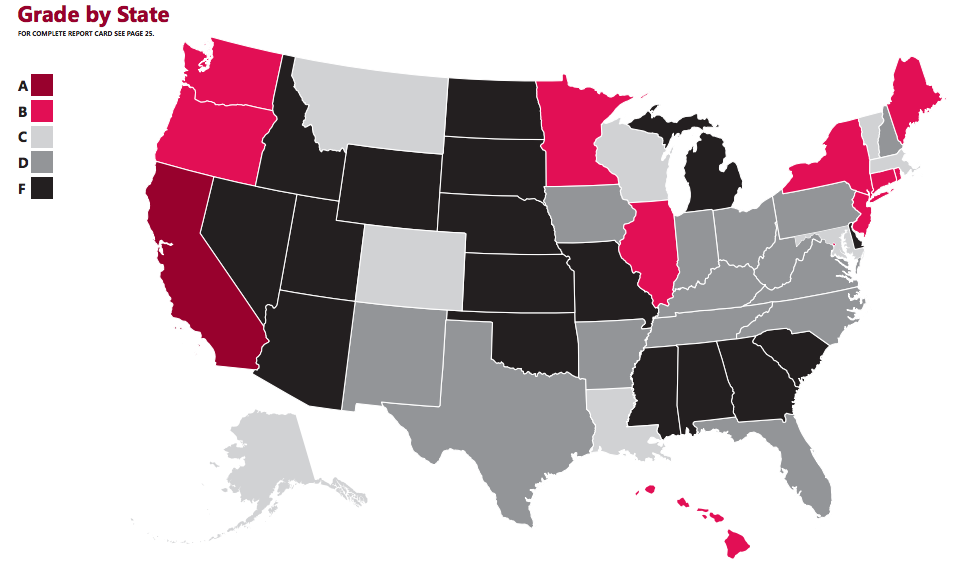 The National Partnership for Women & Families
The National Partnership perhaps best expresses its disappointment in the current state of affairs for working parents in the report's title: "Expecting Better." The executive summary further drives the point home, stating, "The United States can and must do better." It's no secret that the U.S. lags behind its foreign peers when it comes to workplace rights for parents. As the report notes, "at least 181 countries guarantee paid leave to women in connection with childbirth, and 81 guarantee paid paternity or parental leave. The United States is the only highly competitive country that fails to provide paid leave to new mothers."
While the report acknowledges the steps that some states have taken to support working parents, it's clear that there's still a lot of room for improvement.
For more information about the methodology and explanations for each state's ranking, check out the full report.
Like Us On Facebook |

Follow Us On Twitter |

Contact HuffPost Parents
BEFORE YOU GO
PHOTO GALLERY
The Most And Least Affordable States For Child Care