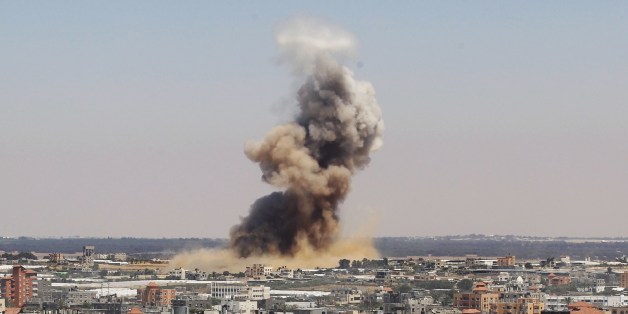 WASHINGTON -- As Israel launched a military offensive against the Hamas-ruled Gaza Strip on Tuesday, Palestinian and Israeli leaders gathered just north in Tel Aviv for a peace conference hosted by the Israeli newspaper Haaretz.
The all-day affair included an interview with Israeli President Shimon Peres, a pre-recorded conversation with Palestinian President Mahmoud Abbas, and panels called "Making Peace and Breaking Peace" and "On Despair and Hope," among others.
Peres explained during his interview why he thinks the conflict between Israelis and Palestinians persists.
"We have not yet reached full peace with the Palestinians, but there has been one change: there are now two Palestinian camps," he said. "There is the camp that is demanding peace and there is the camp that wants to destroy us. Both of them exist."
In his pre-taped interview, Abbas said that the conflict would end if Israel accepted the Arab Peace Initiative of 2002, which offers Israel full recognition if it withdraws to its pre-1967 borders and allows Palestinians to create an independent state.
In an op-ed for Haaretz on Monday, Abbas wrote, "I am totally committed to the vision of a two-state solution, normalization and peace with our neighbor – Israel."
President Barack Obama also penned an exclusive op-ed on Haaretz for the event. He called for a renewed effort for peace through the two-state solution:
As I said last year in Jerusalem, peace is necessary, just, and possible. I believed it then. I believe it now. Peace is necessary because it's the only way to ensure a secure and democratic future for the Jewish state of Israel. While walls and missile defense systems can help protect against some threats, true safety will only come with a comprehensive negotiated settlement. Reaching a peace agreement with the Palestinians would also help turn the tide of international sentiment and sideline violent extremists, further bolstering Israel's security.
Tensions in the area escalated after three Israeli teens were kidnapped in the West Bank last month and were later found murdered. Mohammad Abu Khdeir, a Palestinian teenager, was abducted and killed last week, and three Israeli suspects confessed to the crime on Monday.
During the afternoon portion of the Haaretz conference, Israeli Economy Minister Naftali Bennett spoke on a panel called "Peace in the Era of Realism." As he left the stage, he was chased by hecklers shouting that the "blood of Mohammad Abu Khdeir" was on his hands.
Naftali Bennett pursued by hecklers shouting he has "blood of Mohammed Abu Khdeir" on his hands @ #HaaretzPeace conf. pic.twitter.com/cm9cFaqE5z

— Anshel Pfeffer (@AnshelPfeffer) July 8, 2014
Watch a live broadcast of the conference events here.